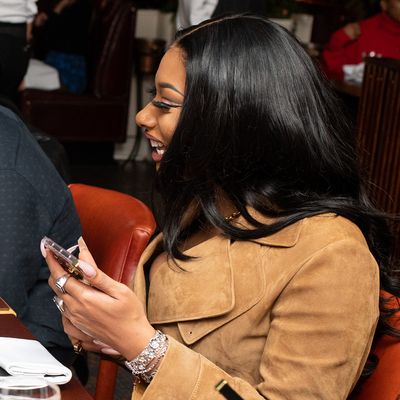 Coach has been in the fashion business for over 70 years, but it's is still ready to churn out something fresh. On Tuesday afternoon, the brand unveiled its fall 2020 collection to the pulsating drums of punk rock band The Coathangers, with models marching down the runway in splashes of bright yellow, blue, and red. It all culminated in a moment that hardly anyone expected but almost every editor stood up to record, when music legend Debbie Harry taking the runway for a special performance wearing a Basquiat x Coach collaboration trench coat.
With all that big punk energy on the runway, the party couldn't end there. The celebration continued into the late night with a buzzy dinner hosted by Coach creative director Stuart Ververs at The Standard Grill. In a softly lit room guests including Megan Thee Stallion, Michael B Jordan, Camila Morrone, and Dree Hemmingway sat down to burgers and plates of pasta in comfy, big red leather booths in a scene vaguely resembling my ideal Saturday night plans.
Because it's not a party until the Polaroid gets passed around, Coach had instant cameras at the ready for guests to snap intimate moments from the dinner. Scroll below to see more scenes from the event including exclusive Polaroid images.