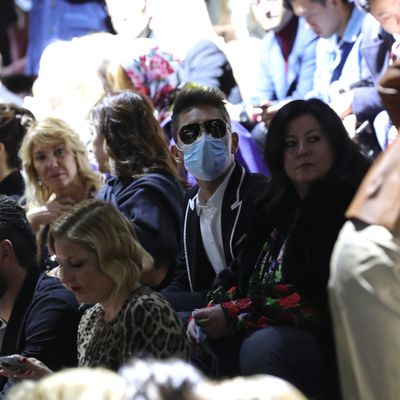 Photo: Vittorio Zunino Celotto/Getty Images
Please note the story you're reading was published more than a day ago. COVID-19 news and recommendations change fast: Read the latest here to stay up-to-date. We've lifted our paywall on all essential news and updates about the coronavirus.
It was an unusually dramatic Milan Fashion Week.
At around 3 a.m. on Sunday in the Italian design capital, Giorgio Armani announced that he would be canceling his fall 2020 runway show, opting to livestream it behind closed doors instead. The decision was allegedly made in response to an eruption of coronavirus cases in northern Italy (and not Mr. Armani's recent wave of bad press.) According to a statement from the brand, the Italian designer wanted to "safeguard the well-being of all his invited guests by not having them attend crowded spaces." Outside of Asia, this is the worst outbreak of the virus to date.
As glamorous as they may seem, fashion shows, like all public events, can be petri dishes for germs. By midday Sunday, coronavirus concerns were the main topic of conversation among industry insiders on the ground. (They even eclipsed the biggest news to hit Milan Fashion Week in years: that Raf Simons will join Prada as a co-creative director.) Some editors opted to drive from Milan to Paris Fashion Week, allegedly in order to avoid airports; rumors swirled about Parisian shows being canceled as well.
Despite growing concerns, both Hugo Boss and Dolce & Gabbana decided to show on Sunday afternoon. (Dolce had previously partnered with the Italian medical school Humanitas University, and will continue working with them in the hopes of "finding a cure.") But the National Chamber of Italian Fashion canceled its closing awards event scheduled for Sunday night, as well as its market day for emerging designers the following day. Michael Kors was also forced to cancel its Milan–based event celebrating the launch of its 007 capsule collection on Sunday night, citing a government ordinance.
Beyond the runway, the city of Milan went into lockdown. Streets were noticeably empty and traffic was nonexistent. Photos on Twitter suggested that supermarkets were being cleaned out. Soccer matches were canceled, movie theaters were shuttered, and the mayor closed schools for a week. Across ten towns in the northern Lombardy region, where most of the coronavirus infections were reported, more than 50,000 people were reportedly told they could not leave without special permission.
Restrictions on travel put into place before Fashion Week are also keeping people out of the country. A large number of Asian editors, buyers, and influencers were noticeably absent from shows this week. A handful of Asia–based brands hoping to present their collections at Paris Fashion Week this season will also be unable to show.
While concerns about the virus spreading are very real, the fashion industry has a tendency to not only dramatize but also trivialize serious issues. Some editors driving to Paris, for example, shared photos of themselves drinking wine and enjoying the views along the way. Others traveling by air used it as an opportunity for a selfie in a surgical mask.
As of Monday, it seems Paris Fashion Week will continue as scheduled, but those in attendance will surely be taking extra precautions.