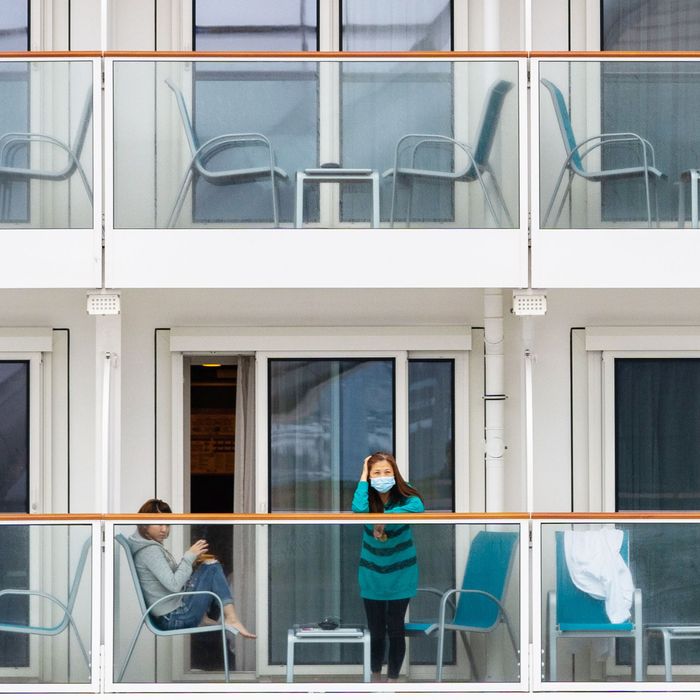 Photo: SOPA Images/SOPA Images/LightRocket via Getty Images
Please note the story you're reading was published more than a day ago. COVID-19 news and recommendations change fast: Read the latest here to stay up-to-date. We've lifted our paywall on all essential news and updates about the coronavirus.
Do we really need more reasons not to ever, ever go on a cruise? The ships are giant floating mall-dorms rife with unsolved murders and freak accidents; they have in recent years flipped over, collided, and caught fire; the customers are charged exorbitantly for things like Hpnotiq and wedge salads; rich people literally have their own separate, much nicer parts of a ship (yes, just like the Titanic); and worst of all, when someone falls ill, everybody gets sick. Because you're trapped, mingling at the buffet and the craps table and the climbing wall in a fluorescently lit, carpeted petri dish.
At least the typical cruise-born stomach poisoning, while disgusting, is fairly treatable and containable. The Wuhan strain of coronavirus, the pneumonialike virus currently the subject of a global health emergency is not. And now more than 5,000 people on two cruise ships are being held in quarantine at sea because fellow passengers have tested positive.
One Carnival cruise, the Diamond Princess, is keeping 3,700 passengers onboard for two weeks off the coast of Japan after ten people tested positive: one from the United States, two from Australia, three from Japan, three from Hong Kong, and one Filipino crew member. (Those who tested positive have been taken ashore to a hospital.) A second ship, the World Dream, is docked off the coast of Hong Kong with 1,800 people onboard after three tested positive. Continuing an exhaustive search for those who exhibit symptoms, medical personnel and cruise officials are testing for fever and respiratory issues among the passengers.
Conditions aboard the Diamond Princess seem totally hellish: Passengers have to stay in their cabins watching "a limited set of on-demand movies." They wait for meals to be delivered, and they can't have alcohol or smoke. One man, who took the cruise for his honeymoon, said his lunch was stale bread and ham, though people are getting free internet. This has the makings of a boring yet terrifying horror movie.