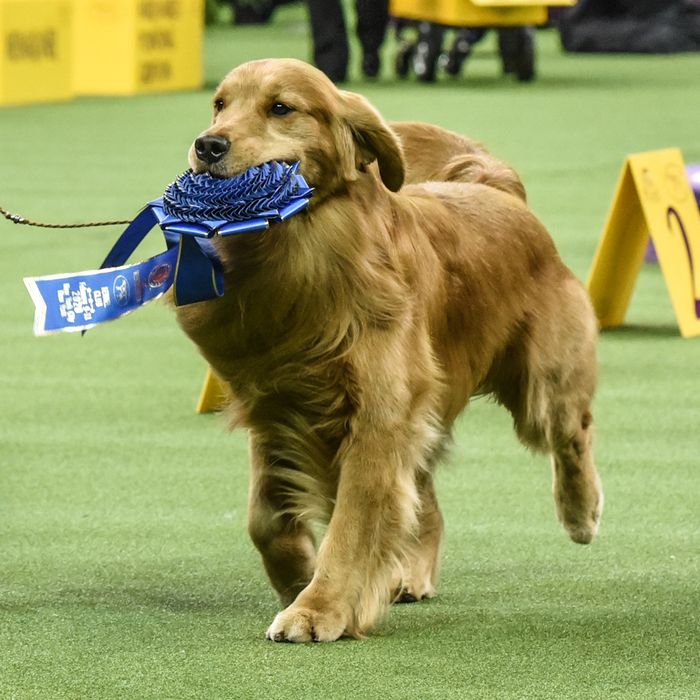 Photo: Stephanie Keith/Getty Images
Siba, the highly glamorous black standard poodle, won Best in Show at the 144th Westminster Kennel Club Dog Show on Tuesday night. She is the fifth standard poodle to do so, and of course we are very happy for her. She deserves her moment, and we would never want to take away from it. But do you know who else did a good job?
Daniel, the golden retriever who won the Sporting category.
And I'll tell you what, it just so happens that a golden retriever has never won Best in Show in all of the Westminster Kennel Club Dog Show's 144 years. One can only wonder — are golden retrievers somehow not worthy? Has there truly never been a single golden retriever, not in 144 years, better by Westminster standards than the dogs he or she competed against? Hm. It's certainly hard to believe. As the crowd cheered for Daniel, even reportedly chanting his name as Best in Show was announced, the popular vote was denied. The title went to Siba.
Still, we are proud of Daniel, who is, to make clear once again, widely reported to have been the "crowd favorite" of the night. He is beautiful. He has a kind face. He deserves our respect. You can tell he would cheer you up when you were sad and smother you with love, desperate to make you feel better even though he would not understand why you felt so sad. Maybe it's something at work; maybe it's something with a significant other. These are (likely) beyond Daniel's understanding, but it would not matter.
We love you, Daniel. And, of course, we offer our warmest congratulations to Siba.