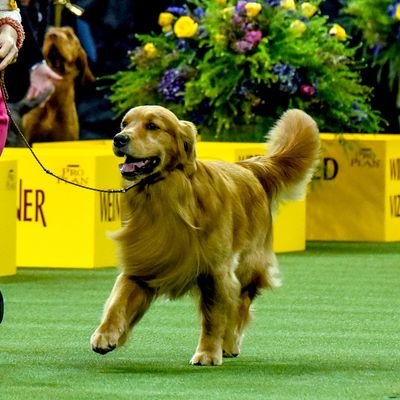 Hang in there, buddy.
Photo: Stephanie Keith/Getty Images
Last night, a golden boy lost the coveted title of Best in Show to the most glamorous bitch on Earth. Her beauty being unrivaled within her breed — at least in the eyes of the Westminster judge who made Tuesday's call — it is hard to begrudge her the accolade, especially when one remembers the allegations of dog sexism tendered against the kennel club. But it is also hard not to sympathize with Daniel, the cheerful retriever who hugged his handler after winning his group; the first golden retriever to make it to Westminster's final round; America's #1 golden retriever two years running.
If we were awarding the big prize based on a preponderance of screams, then it probably would've gone to Daniel, whom the crowd reportedly cheered even as the prize went to Siba, a meticulously coiffed poodle. Popular opinion holds that Daniel was robbed. Dog Twitter threatened a riot over the alleged snub, another fancy dog chosen over the cute-but-common golden retriever.
It has been a whirlwind, and amid all the chaos, how Daniel he doing? Is he okay? According to the New York Times, yes. Daniel is taking it on the chin.
"He is happy to be home and just hanging out," Tammy Tomlinson, one of his owners, told the paper. "This morning, he dug himself a nice hole in the backyard and decided to lie in it."
That kind of behavior, if observed in a human who'd just been passed over for an eminently deserved honor, would be worrisome, but maybe it's okay for a dog. In any case, Daniel appears to have a support network ready to catch him. He's "getting lots of hugs," per the Times.
While Tomlinson granted that Siba is "a beautiful, beautiful representation of her breed," she also mused that, on "another night with a different judge," the outcome could've been "totally different." Still, she added, Daniel has plenty of other skills, so he'll be fine: "He's not just a pretty face."