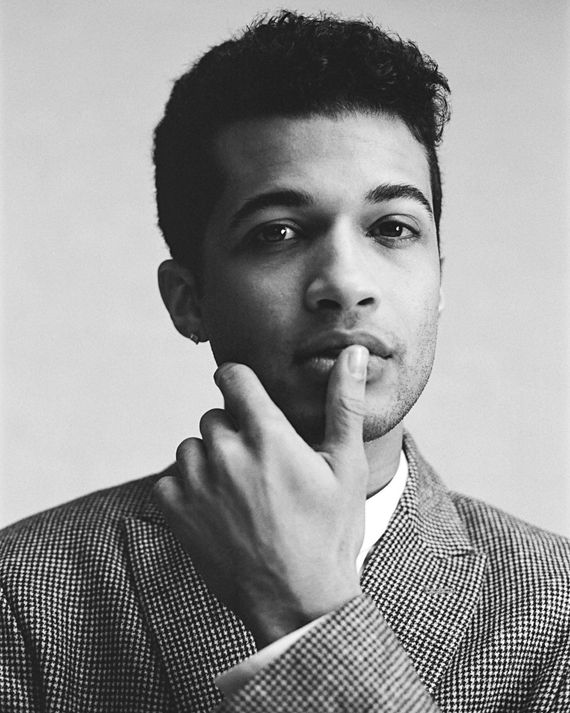 Jordan Fisher is perfectly on time and perfectly dressed: He's in a dove gray suit with a diamond stud in one ear and a glittering crucifix in the other; a scribble of tattoos peek out of his left sleeve. He smiles, a nose-crinkling, I'm-thrilled-to-be-here-with-you-in-this-freezing-coffee-shop smile. And then he pulls a cup of pudding out of his coat pocket.
"How are you doing today? Good morning to you," he says, apologizing for the presence of "ratchet" pocket pudding; it's not like it's Jell-O — it's fancy, famous banana pudding from Magnolia Bakery — but still. He pops it open and starts to eat. "I want to figure out a way to make this my wedding cake," he says.
Fisher, in both his new film and his actual life, is a romantic: In P.S. I Still Love You, the sequel to the Netflix streaming hit To All the Boys I've Loved Before, he plays John Ambrose McClaren, romantic rival to Noah Centineo's Peter Kavinsky. Peter and Lara Jean (played by Lana Condor) are two teens in sweet, uncomplicated love, until John Ambrose – Lara Jean's sixth grade best friend and secret crush (always referred to in the polynym) – shows up.
If you're of a certain age – my age, and Fisher's age, which is 25 – there's a chance you know Fisher's face, if not his name. Growing up, I saw him on soapy teen dramas that ran on networks like Freeform and Disney in the 2010s: The Secret Life of the American Teenager, the Teen Beach movies, Teen Wolf. In 2017, he was already famous(ish) enough to appear on Dancing With the Stars, which he won, no doubt thanks in part to his extensive theater background (he's currently playing the titular role in Dear Evan Hansen).
He's been acting most of his life, and he tells me he got his start thanks to a moment of puppy love, when he quit elementary school gymnastics to join the drama club. "I had a crush on a girl in fifth grade. New girl. She asked me to join," he shrugs. "That was it."
Childhood crushes (and their long-term effects) are something of a theme in Fisher's life lately. In a funny coincidence, his biggest project to date — the To All the Boys sequel — is about reconnecting with a childhood sweetheart. And in his off-screen life, Fisher really did reconnect with one: Ellie Woods, his best friend from his hometown of Birmingham, Alabama, who he met when he was 13. Woods visited Fisher in New York when he was starring in Hamilton. "She came up to see it and we got dinner afterwards. And that was it," he says, almost sighing. (His life, as he tells it, is a series of that-was-its.) "It took just time and space and having our own relationships and experiences to bring us back to each other in a totally different way, with different eyes, and a different heart for one another."
One more that-was-it: the moment he knew he wanted to marry Woods. "I was sitting on a dock and feeding some turtles in the little pond and she came out with bed head and a cup of coffee," he says. "And I turned around and I was like, Oh, that's what I want for the rest of my life. That was it." Last spring, he proposed at her parents' beach house in Birmingham (in a People exclusive engagement). They'll be married next summer in Hawaii, where, if things go Fisher's way, guests will be served banana pudding in lieu of cake.