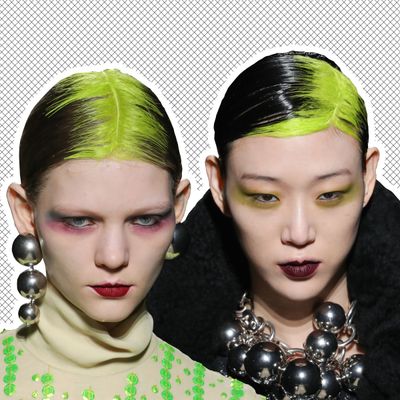 Billie Eilish's signature slime-green roots at Dries Van Noten fall 2020.
Photo: Getty Images
Last year, cool teen Billie Eilish dyed her roots their now signature slime-green color. This year alone, those fluorescent roots have been on the Grammys' stage, the Oscars' stage, the cover of Vogue magazine, and now, the runways of Paris Fashion Week.
At Dries Van Noten fall 2020, models wore slicked-back hairstyles that showed off very visible hair roots, one of the easiest, stress-free ways to have on-trend hair in 2020. Several models' on-trend roots took it up another notch, daring to be even more on-trend by coming in bright Eilish green. Eilish recently let the public know that she would prefer no one impersonate her, but I think she meant that more in the scammer-y way, not the figurative, flattery way, and this look is definitely the latter.
Models did not actually bleach their hair for hours backstage. Instead, hairstylist Sam McKnight created the roots by laying soft, neon feathers along models' parts and hair-spraying them in place to mimic a chemical dye job and the stylistic eye of a cutting-edge 18-year-old who is poised to take over the world.
Somewhere in the crowd near the Opéra Bastille sits Mugatu, sipping a non-foamy latte, reaffirming what we already knew to be true: Billie Eilish, so hot right now. Billie Eilish.