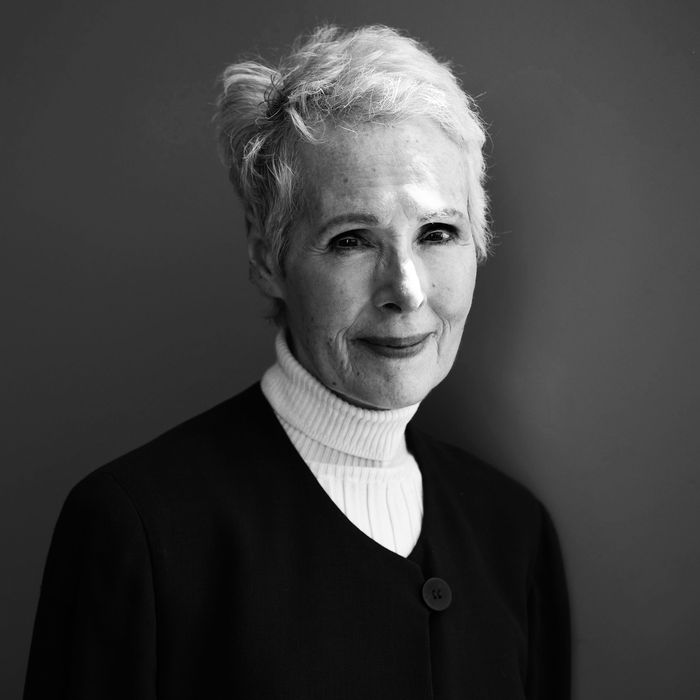 E. Jean Carroll.
Photo: Craig Ruttle/AP/Shutterstock
Seven months after E. Jean Carroll publicly accused Donald Trump of raping her in the mid-1990s, the author and former Elle advice columnist announced she was seeking a DNA sample from him. Her legal team said their goal is to determine whether his genetic material is on the dress she was wearing during the alleged attack. The latest reports now indicate that Trump's legal team is stalling Carroll's defamation lawsuit against him, including efforts to obtain the DNA sample.
On Tuesday, Carroll said in court that the president is trying "to stop the truth from ever coming out," after Trump's lawyers requested her case against him be delayed until New York Supreme Court of Appeals deliberates on a separate case that seeks to determine whether or not a sitting president can be sued in state court. According to the Associated Press, that issue is being determined in a similar case put forth by Summer Zervos, a former Apprentice contestant who says Trump sexually assaulted her in 2007 and defamed her by lying about it.
Carroll also revealed this week that she'd been fired from Elle following her accusations against Trump, tweeting, "Because Trump ridiculed my reputation, laughed at my looks, & dragged me through the mud, after 26 years, ELLE fired me. I don't blame Elle. It was the great honor of my life writing 'Ask E. Jean.' I blame @realDonaldTrump." The AP reported on Tuesday that the magazine ended its contract with Carroll in December, according to court documents.
In a New York Magazine cover story published last June, Carroll wrote that Trump cornered her in a Bergdorf Goodman dressing room in late 1995 or early 1996, and thrust his penis inside of her, resulting in a "colossal struggle." At the time, Carroll says she was wearing a black wool Donna Karan coat dress, which "still hangs on the back of my closet door, unworn and unlaundered since that evening." (In response to Carroll's allegation, Trump said she's "totally lying" and claimed that he has never met her before, despite a photograph from 1987 that shows the two posing together.)
According to the AP, Carroll's lawyers contacted one of Trump's attorneys last month, demanding that the president submit a DNA sample for "analysis and comparison against unidentified male DNA present on the dress." This demand is part of Carroll's defamation suit against Trump, which she filed last November, after he publicly denied her allegation and labeled her a liar.
After Carroll filed the defamation suit, her lawyer, Roberta Kaplan, had the coat dress tested for DNA. A lab report found at least four peoples' DNA on the sleeves, at least one of them male, and several potential contributors have already been tested and eliminated.
"Unidentified male DNA on the dress could prove that Donald Trump not only knows who I am, but also that he violently assaulted me in a dressing room at Bergdorf Goodman, and then defamed me by lying about it and impugning my character," Carroll said in a statement at the time.
This post has been updated with additional information.