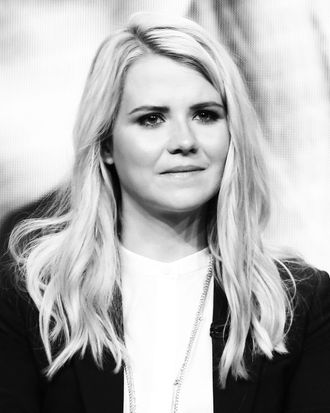 Photo: David Buchan/Variety/Shutterstock
Kidnapping and rape survivor Elizabeth Smart told CBS she was sexually assaulted on a plane last summer, 18 years after she was abducted from her home in Salt Lake City at age 14. On a Delta flight back home to Utah last summer, Smart says she was woken up by the person next to her touching her without her consent.
"I had been asleep, and all of a sudden I woke up because I felt someone's hand rubbing in between my legs on my inner thigh," Smart recalled. "The last time somebody touched me without my say-so was when I was kidnapped, and I froze. I didn't know what to do." Smart said she jerked away and that she expected the man to apologize or give an explanation, but he said nothing.
The incident has inspired her to create a self-defense program called Smart Defense, which teaches women and girls mixed martial arts and other techniques for warding off attackers. "You're Elizabeth Smart; you should know what to do," Smart says she thought to herself after being assaulted. She asked her husband at the time, "Do I just have, like, a big badge on my forehead that says 'Easy prey' or 'Victim'? Because I am sick of it." She said she didn't believe learning self-defense would have necessarily prevented her kidnapping but that she wanted women to feel better equipped to protect themselves.
Smart filed a complaint online with Delta, and said the FBI is investigating the assault. The FBI would not confirm an investigation to CBS. When asked if she wants to press charges against the man, Smart said, "I don't want him to be preying on other girls."