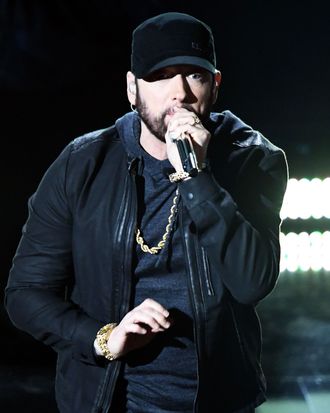 Eminem.
Photo: Kevin Winter/Getty Images
About an hour and a half into the Oscars, lights dimmed for a video supercut of now-classic songs that have influenced films over the years: "My Heart Will Go On" (Titanic) and "In Your Eyes" (Say Anything), to name a couple. And then we were destabilized by the sound of jarring — yet familiar — string instrumentals. Is this … "Lose Yourself"? many of us pondered confusedly. For reasons none of us can yet comprehend, Eminem appeared onstage and performed "Lose Yourself," his song from the 2002 movie 8 Mile.
Our brains, along with those of Martin Scorsese, Billie Eilish, Idina Menzel, and others, were scrambled by what we witnessed.
Kerensa: WHY IS EMINEM HERE?
Anna: What a wild card. He still sounds good.
Kathleen: This is what Eminem looks like now?!
Melissa: Billie Eilish doesn't get it.
Stella: Me and Billie, same.
Callie: Billie Eilish was a 1-year-old when that song came out.
Nana: Why this song though? I'm into it, but why?
Stella: And the whole room is singing along? I feel like I'm in a vortex of misunderstanding.
Nana: Budget cuts.
Anna: Absolute chaotic energy.
Kerensa: More important question: Why is there a standing ovation?
Callie: In my experience, men universally love this song. Once I was at a bar and had put on 15 Abba songs in a row and I could feel the men getting papably angry. So I put on "Lose Yourself" to placate them and it was like giving a baby a pacifier. They all immediately calmed down and began nodding along.
Izzy: We all just fell down a hole and now it's 2002.
Rebecca: Didn't he win an Oscar for that song?
Stella: 18 years ago??
Anna: The Oscars should do more shit that makes no sense.
Nana: I'm sorry but I enjoyed that.
Allison: Honestly that song still slaps. I'm not ashamed. But can we address the elephant in the room? Did Eminem look sort of … good?
Nana: Allison! Stop it now.
Anna: Yes.
Allison: Thank you.
Stella: And the Oscar for most Horny goes to …