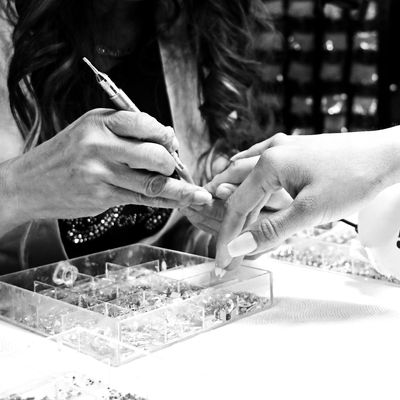 Photo: ANGELA WEISS/AFP via Getty Images
For years, there have been reports of staggering exploitation and abuse of workers in many of New York's 4,000 nail salons. Consumer consciousness has been raised (somewhat), but a new report found that wage theft is still widespread in the city's salons.
On Tuesday, the workers advocacy group New York Nail Salon Workers Association released a report comprised of surveys with women who worked at salons across New York City. It found that 82 percent of those workers are experiencing wage theft, with the average worker getting $181 shaved off a pay check every week. Wage theft was particularly common at salons that charge low prices. "At salons where manicures are $15 or less, workers experience an average of $123 in wage theft per week," the report says. "At salons where manicures are $16 and higher, workers are paid an average of $58 more than the required minimum wage." The majority of these workers are low-income immigrant women, many of whom are the sole providers for their children, according to the report.
At a press conference announcing the results of the report, a woman who used to work at a salon in the Bronx spoke about her former employer and said she and the other workers were not allowed to take breaks to eat meals. "Oftentimes, there's fear of speaking out and speaking up," said Sonia Morales. "Day after day, these are injustices that we're having to face, that we're having to work under."
According to Gothamist, the Nail Salon Workers Association was established in 2016 on the heels of a groundbreaking report from the New York Times that found labor violations were rampant — more the rule than an exception — and a New York State Labor Department investigation conducted around the same time that found 116 wage violations across 29 salons.
Although new regulations will require all nail salons in New York State to pay employees minimum wage and overtime by the end of the year, advocates are calling for additional legislation to protect workers against wage theft. The Nail Salon Workers Association says that the Nail Salon Accountability Act, which will be introduced in Albany later this month, would "link business licensing and license renewal procedures with labor-law compliance."