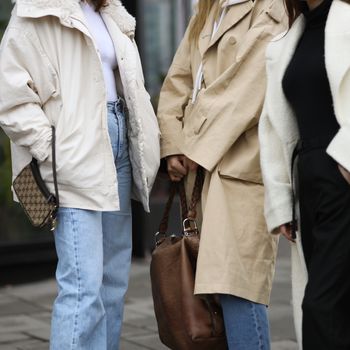 Photo: Jeremy Moeller/Getty Images
Last season, there was a lot of talk during Fashion Month about offsetting carbon emissions. This season, we have a sense of how much CO2 is emitted annually by fashion people and clothing collections moving around the planet: about 241,000 tons, or enough to power Times Square for 58 years.
That's according to a new report, Zero to Market, that was highlighted in the New York Times today. The report was released by the fashion technology company Ordre.com and a climate-change consultancy called the Carbon Trust. Together, they looked at a year's worth of data from the thousands of retailers and brands that send people to major Fashion Weeks and trade shows. New York Fashion Week, I'm sorry to say, was responsible for a full 37 percent of the emissions.
Which raises the obvious question: Why are we still doing this? Of course, runway shows create but a sliver of the environmental impact of the fashion industry, but they represent everything that is wrong with it. They're inherently wasteful, with glossy sets built, torn down, and landfilled after a ten-minute spectacle. Attendees fly first-class from fashion capital to fashion capital, where they jump into black cars that ferry them around, leaving trails of disposable water bottles and gift-bag swag behind.
The low point of this "Let them eat carbon" orgy of extravagance might have been Saint Laurent's Spring/Summer 2020 show, which was illegally plunked down on a delicate California beach ecosystem. Somehow, parent company Kering's longtime commitment to the environment hadn't trickled down to the show's producer.
Since then, chastened luxury brands have read the room and started recycling and reusing runway set materials, offsetting the carbon emissions emitted by guests, and nodding to the coming apocalypse with logo face masks and recycled materials. Stella McCartney, high priestess of sustainable luxury fashion, hosted a roundtable on sustainability before her last show.
These gestures may placate the public for now. McCartney's roundtable cleverly included a speaker from Extinction Rebellion, which had been protesting outside London Fashion Week just two weeks prior. Copenhagen Fashion Week just launched a set of 17 standards to determine if a brand is sustainable enough to show in 2020. But bottled-water bans and expert panels — so many panels! — won't fix what's rotten in the global fashion industry.
The world that Fashion Weeks were created for — powerful department stores and glossy magazines — doesn't exist any more. Buyers are going to fewer shows, because many of the runway pieces were created as an Instagram moment and probably won't ever be produced. (Has anyone seen Viktor & Rolf's giant "I Want a Better World" gown out in the real world?)
"The people who get the most coverage and attention spend a lot of money and show things that nobody will ever wear," Christopher Kunz, one half of the brother-sister duo behind the luxury conscious brand Nicholas K., told me. Like many brands, they're taking a break from the merry-go-round of seasonal shows so they can focus on marketing their classic pieces online. "I don't want to paint people that do it as wasteful," Kunz says. "There's a reason why they do it. But it's hard to make the case that it's what we want to participate in."
That reason is the millions in media impressions from articles and Instagram posts. But as the margins on ready-to-wear narrow and fast-fashion brands bring knockoffs to market within weeks, the purpose of the runway has pivoted to helping big brands sell more of their profitable offshoot items: bags and jewelry and beauty products. The last bastion of slow fashion has been conscripted into selling us more stuff.
A fashion show used to also serve as an immersive experience that stroked the egos of editors, influencers, and editor-influencers. But even some influencers have started to feel the JOMO (joy of missing out). They don't need to participate in the frenetic Fashion Week schedule, because the brands' publicists will send them everything they need to produce content from their own homes. "They send samples to showrooms, do launch parties, provide goody bags," says Akvile Les, an artist and PR professional in London who recently pivoted to interior design after eight years in the fashion industry. "That still goes on."
We could follow Stockholm's lead. The Swedes canceled their Fashion Week altogether last year, citing sustainability concerns, and haven't brought it back. But I think there is a way to use a fashion show for good. I witnessed it at the only show I attended last season by Studio 189, a social enterprise that sells high-end fashion made in Africa.
Studio 189 was co-founded by Ghanaian-American designer Abrima Erwiah and actress Rosario Dawson. They hosted the show at Fashion Week hub Spring Studios for maximum efficiency. The decor was minimal: benches, plants, handwoven baskets, and a hand-painted patterned backdrop that evoked both the painted homes of Northern Ghana and Burkina Faso and the coded freedom blankets created by American slaves escaping the South.
Erwiah is a seasoned luxury-fashion executive, but she found that when people heard her brand was made by artisans, they'd immediately assume it was a poorly designed charity case. "Me going to people's offices, that didn't work, because they have stereotypes and would put them on me or my collection," she says. Producing a show and getting on the official calendar was the most efficient way for her to establish Studio 189 as a brand to take seriously.
The ensuing coverage from Vogue, Essence, and Women's Wear Daily hardly mentioned front-row celebrities. Instead, they talked about the Ghanaian singer Jojo Abot, who danced down the runway giving thanks to ancestors, and about the colorful clothes themselves, made of recycled and organic cotton, which all will be available for purchase for years to come. "I thought it was important to tell the whole story, while I have the ten minutes of people's attention in the room," Erwiah says. "It's not just what they see. It's their own experience. You could feel the electricity in the room." (And inhale the custom orange-blossom scent that evoked Ghana.) "I don't think we could do it another way."
Still, Studio 189 wasn't on the calendar this NYFW. Staging a show is expensive, and she doesn't want to produce a whole new collection just to get eyeballs on it. "That is the root of the problem," Erwiah says. "This need to constantly produce."
It turns out that the most sustainable fashion show is one that doesn't happen. So here's my suggestion: Slow it all down. Hold one Fashion Week each season in a different city that needs an economic boost, with a two- or three-year rotation so that designers can catch their breath. Then we can enjoy our purchases for a little longer, before they're "so last season."
I know this sounds improbable. Why would the fashion industry give up the excitement — and profits — of their shows? But we have to take it seriously as an option. Otherwise, we're just politely clapping while the world burns.