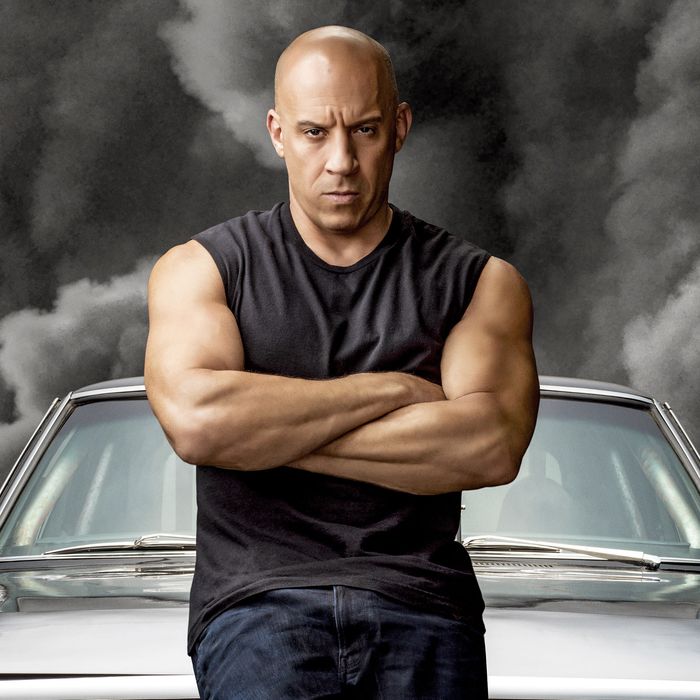 One tank top from
Fast & Furious 9
.
Photo: Universal Pictures
Slipping into the Axe body-spray-scented embrace of the Fast and the Furious universe feels like being on every single upper in the world at once: You're amped, driving a car out of a plane suddenly seems like a good, even sensible, idea, and you might be moved, at any moment, to rip your shirt off and scream, "I'm never gonna die!" It is overwhelming, insane, almost certainly detrimental to one's long-term physical and emotional health, and I love it!!
Soon, we will all be able to enjoy this delirious, synapse-frying high again. On Friday, the trailer dropped for Fast & Furious 9, the latest installment in the franchise, which is set to premiere on May 22. It has everything: fast cars, flying cars, exploding cars, Vin Diesel grumbling about the importance of family, something about living life "a quarter-mile at a time." Also, Han is back! And Dominic Toretto (Diesel) has a brother, and that brother is John Cena!
But as devoted Fast fans know, these films aren't really about the cars, or the explosives, or the hordes of scantily clad women dancing in slow motion to Skrillex songs. They're about men who cannot be contained by the laws of society or physics; men who must live without limits; men, like Dominic Toretto, who must live without sleeves.
Over the course of nearly two decades, Dom has orchestrated innumerable vehicle-based heists and elaborate international-security operations, all while leaving his bowling-ball biceps fully exposed to the elements. The new trailer honors these accomplished bare arms (and occasionally those of Letty, Dom's childhood sweetheart), providing viewers with a tremendous, deltoid-forward experience. And so, without further ado, here is every single tank top in the Fast & Furious 9 trailer, in order.
1. Dom's garage tank
The first tank top we see is one of Dom's classic white muscle tanks. He's wearing it in the garage of the farm where he and Letty (Michelle Rodriguez) now live, I guess. He's looking wistfully at old photos — probably mourning the fact that in one of the photos, he's wearing a regular T-shirt instead of a tank.
2. His sleeveless work shirt-tank combo
Interestingly, Dom's child is still in a regular shirt, which leads me to believe that the ceremonial ripping off of one's sleeves is an adolescent rite of passage in the Toretto family, like some kind of blouse mitzvah.
3. Letty's overalls tank
Women are also sometimes allowed to wear muscle tanks in the F&F universe, which is cool. Women's rights!
4. Dom's sweet-dreams tank
Rockaby baby
On the treetop.
What do you think
Of Daddy's tank top?
Is it too tight?
Or is it just right?
Soon you'll lose your sleeves
And be just like me.
5. Another Letty tank
Women's rights!
6. The suspense tank
Something terrible is coming … but it sure as hell better not be sleeves.
7. Letty's red tank
Women's rights!
8. This little number
This piece seems to be just barely hinting at a little cap sleeve, which I'm obsessed with.
9. The high-neck tank
In this shot, Dom is holding intense eye contact with his brother, John Cena, as they whiz by each other in speeding cars. John Cena doesn't seem to wear any tank tops in the trailer, which is interesting. Why does one beefy Toretto boy get to enjoy the soft kiss of the wind on his bare biceps while the other must struggle daily to contain his redwood-size arms in long, constrictive sleeves? Maybe John Cena didn't get a blouse mitzvah, and that's why he wants to kill Dom.
10. The tank Dom gets beat up in
What it feels like when all of your friends keep trying to get you to wear sleeves.
11. A horny tank, I think?
I can't fully read Dom's emotion here, but I think it's a combination of respect and arousal in response to Letty pledging her loyalty to him. This shirt might be the same as the suspense tank.
12. The same high-neck tank from before, but now he's using a walkie-talkie
Paging Hollywood: C'est moi, Vin Diesel's delts.
13. The same high-neck tank again, but this time from a slightly different angle
Racing to buy some more fitted tanks.
14. The same black tank top as before
From this angle, it doesn't look like this top actually has cap sleeves, which is disappointing.
15. Han!
He's not in a tank top, but he's back!
16. Han getting hugged by a tank top
To feel the soft, hairless skin of Dom's upper arms once again … Sweet.