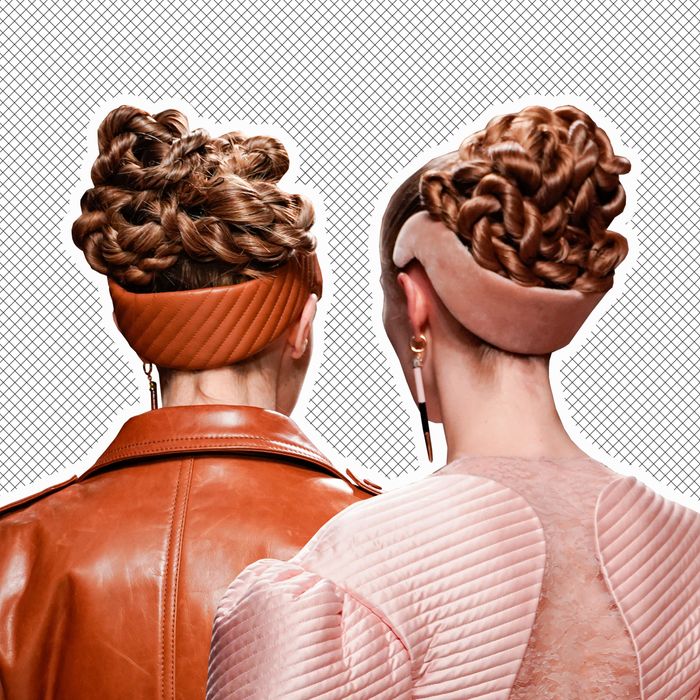 Headbands at Fendi Fall 2020.
Photo: Getty Images
You know that headband you have? The really thick one that goes on top of your head? Have you ever thought about wearing it … upside down? Like on the back of your head, instead of on the front of it. So from the back, it looks like your head is comfortably cradled, and from the front, it looks like you've momentarily rested earmuffs or headphones above your ears so you can hear better. Or alternatively, like you're wearing sunglasses on the back of your head for some reason. No? Well, Fendi sure did!
At Milan Fashion Week, models at Fendi fall 2020 got their hair slicked back and piled into "abstract asymmetrical sculptures and elegant twists and turns" by stylist Sam McKnight. The shiny updos were then accessorized with quilted headbands in everyone's favorite extra-wide girth, except they were worn in a fun, new way: upside down!
An upside-down headband not only gives every bun the "snap" part of Elle Woods's handy bend-and-snap; it also lets both your forehead and top-head really shine — smooth, sleek, and unadulterated. Another bonus: If you've always wanted someone to say they "hate to see you go, but love to watch you leave," as you exit a building, this may be the new beauty trend for you, especially if you try it using a bejeweled headband that makes your back-head sparkle.
Maybe not one of Prada's pizza-cutting headbands though. Those look sharp so you should probably wear them as originally intended.