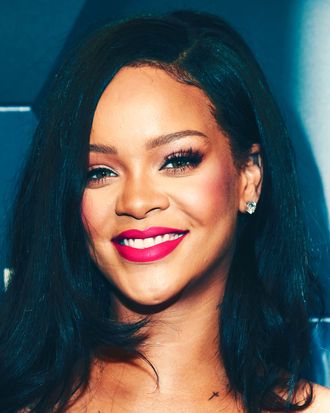 Thanks, Rihanna!
Photo: Kevin Mazur/Getty Images for Fenty Beauty
Rihanna, who was born on this day, has already given us so much (this book, this GIF, this many foundation shades, this sparkly twerk, the death of this, to name just a few). She is the embodiment of the gift that keeps on giving, and she doesn't take a day off, even when that day marks the anniversary of her birth.
Today, February 20, Rihanna Day, Rihanna is gifting us one of her greatest creations: her super-shiny Killawatt Freestyle Highlighter, the signature finishing touch to a Fenty face and the octagon often referred to as the "holy grail of highlights."
All you have to do is head over to Fenty Beauty's website before midnight Pacific time and spend $50 (shockingly easy), and you'll receive a free full-size Killawatt duo, which typically costs $36 on the days that are not Rihanna's birthday.
You can pick from three color combos, any of which will give your face the creamy, heavenly glow of our pope. There's 7 Day Wknd + Poolside, a metallic orchid paired with a metallic violet; Mimosa Sunrise + Sangria Sunset, a metallic tangerine paired with a metallic magenta; and Sand Castle + Mint'd Mojito, a metallic bronze paired with a metallic mint-blue.
You really can't go wrong, but Mimosa + Sangria is marked as "Rihanna's fave." Just saying.
If you buy something through our links, New York may earn an affiliate commission.