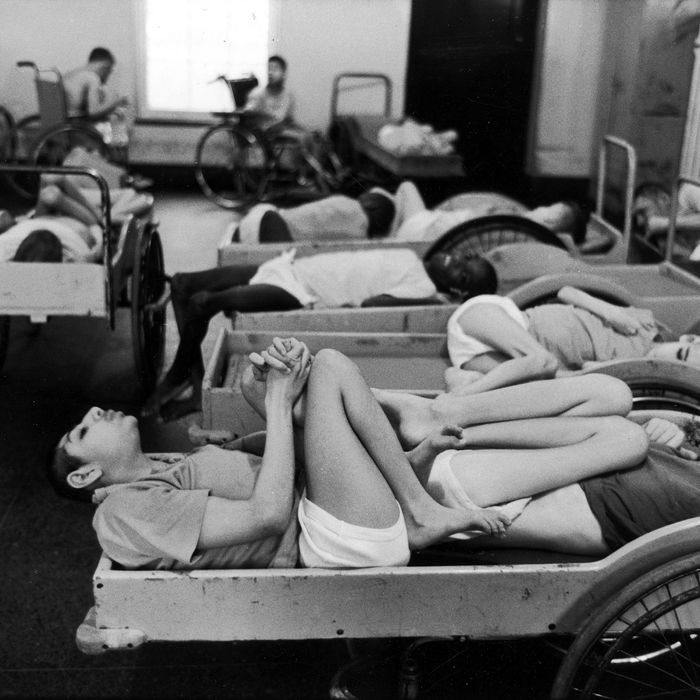 Willowbrook State School.
Photo: Bill Pierce/The LIFE Images Collection via Getty Images
A New York Times investigation published on Friday has found that many adults with developmental disabilities living in New York facilities have been subjected to routine abuse and neglect for decades.
The investigation focused on former residents of Willowbrook State School, a Staten Island institution that gained notoriety in the '70s, when reporter Geraldo Rivera took a camera crew into the school. Viewers were horrified by the inhumane conditions inside the state-sponsored institution, where children — many of whom were left unattended and unclothed — could be seen smeared with their own feces. Adults were shown sleeping in chairs in rooms that Rivera described as smelling like "disease" and "death." After the investigation aired on Eyewitness News, the New York Civil Liberties Union and the Legal Aid Society filed class-action lawsuits against Willowbrook, which lead to a 1975 court settlement ordering that residents be moved out of the facility, which officially closed in 1993. Following the landmark settlement, New York reiterated that all alumni had the "constitutional right to protection from harm."
But New York has seemingly failed on that promise, as many former Willowbrook residents have reportedly continued to suffer abuse in their new facilities. According to internal state data obtained by the Times, in 2019 alone, there were 97 reports of physical abuse, 34 allegations of psychological abuse, and hundreds of more reports of other forms of mistreatment of Willowbrook alumni.
The Times' investigation follows the case of Migdalia Romero, whose parents placed her and her sister — both of whom suffer from developmental disabilities — in Willowbrook in 1964. After Migdalia was moved out of the facility in 1980, she lived at home with her mother, where the Times reports that she "thrived." But following her mother's sudden death in 2004, Migdalia, then 47, was placed at Union Avenue in the Bronx, another facility that would later become notorious for abuse.
In 2014, the Justice Center for the Protection of People With Special Needs launched an investigation into Union Avenue after receiving a complaint about the facility's abusive conditions. The agency found that 13 employees had been accused of mistreating residents, and five instances of alleged abuse involved former Willowbrook residents, including Migdalia. Per the Times, Migdalia suffered "repeated trauma" for at least six months in 2014, with workers recalling a "big purple blotch" and "big red circles" on her body, as if someone had kicked her. (However, after a yearlong investigation in 2014, Bronx District Attorney Darcel D. Clark's office said it found insufficient evidence to prosecute any of these allegations. No Union Avenue employees were fired.)
And according to the New York Civil Liberties Union, the instances of alleged abuse continue to mount in group homes, due in part to short staffing, as well as lack of oversight and training for employees. In 2017, a 69-year-old man in a Manhattan home suffered second-degree burns after he was placed in scalding water for bathing. Last December, a 58-year-old woman prone to seizures was found dead in a Brooklyn home after employees failed to check on her.
"Now we have small Willowbrooks," Ida Rios, whose late son lived at Willowbrook, told the Times. "As much as things have changed, they don't change."