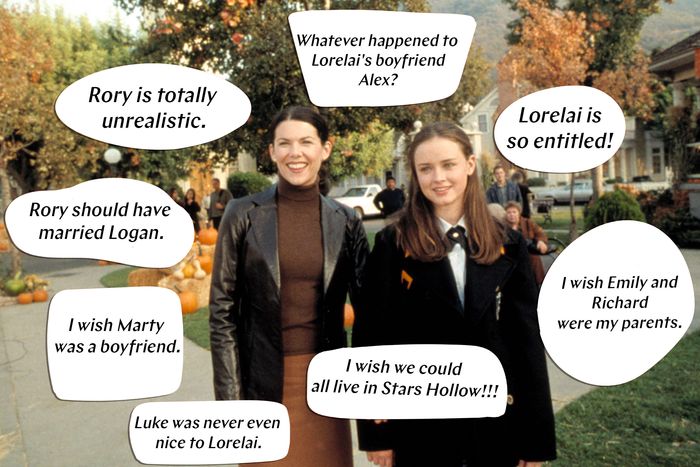 Photo: ©Warner Bros/courtesy Everett Collection, Getty Images
In season two, episode 18 of Gilmore Girls, the beloved mother-daughter "teen" drama that's actually fine for adults to watch too, haha, Lorelai and Rory stop by Luke's Diner for breakfast. On a chalkboard above the counter, they spot a new omelet special written out in large block letters. Lorelai points it out to Rory, noting that the handwriting is very precise, calling it "focused Luke." Rory corrects her saying, "That's Jess's handwriting."
It's a moment that serves to introduce Rory and Jess's budding closeness (she knew Jess's handwriting because she'd loaned him a book and he wrote his thoughts in the margins), which is something Lorelai sensed but didn't want to admit. She didn't like Jess. She liked Rory's boyfriend, Dean. Dean was nice. Dean changed the water-cooler bottle. It's a moment that feels notable to viewers as the first time Lorelai has to accept that a Rory and Jess relationship is likely going to happen. It's a moment that feels notable to me because … we're supposed to believe Jess's "handwriting" is enormous block letters meant to be visible on a faraway chalkboard, which Rory recognizes from the MARGINS of a book??
I doubt it!!!
In darker times, this is a thought that would have had to live only in my mind, inhumanely packed beak-to-beak with all of my other thoughts like it. Things you'd only remember if you've seen the series an unmentionable amount of times; things you'd only care about if you were unwell in this particular way. Why did Rory put cold water into a French press to make coffee in S02E21? Why did Lorelai routinely switch her martini order from gin with an olive to vodka with a twist, each time insisting this was her regular order? Whatever happened to Jason's lawsuit against Richard?
Luckily, there is a community of people out there who understand. People whose thoughts are clouded with Gilmore Girls' peccadilloes, opinions, questions, obsessions, thoughts, sources of anger and frustration, sources of joy, sources of comfort — a group of people who aren't shy about discussing all of it. This is the community that makes up the Instagram account "Gilmore Girls Confessions."
And I'd like to introduce you to it.
The page updates a handful of times per day with "confessions" that its followers, Gilmore Girls obsessives, have direct-messaged to the person who runs the account (The instructions for contributing are in the account's bio.) The account holder then grabs a relevant Gilmore Girls photo and places the anonymous confessional on top. The text is often quite lengthy, and the effect is such that the mere act of scrolling through the feed makes me laugh:
I love it. It's difficult lately to find a place online that inspires joy rather than fear, anger, and wanting to throw your phone into a snowbank. It's comforting to know there is still somewhere you can find a group of strangers being obsessive and wildly unusual in a fairly relaxed, nonjudgmental way. We are together here, just being ourselves, talking about whatever is on our minds — and whatever is on our minds is exclusively Gilmore Girls.
Though the confessions come from the depths of animal hearts and minds of their confessors, presented boldly without apology or shame, wholly and brazenly truthful and sui generis, there are in fact recurring themes. For the uninitiated, I've attempted a taxonomy of the types of confessions typically found.
Desires: What do we want? What do we wish we could have seen?
Character Judgments: Who was a jerk? Who was annoying? And isn't Lorelai so entitled?
Complaints: What did the series get wrong?
Rory Is Realistic: Rory is realistic!
Rory Is Not Realistic: Rory is not realistic!
Mistakes: What did the writers screw up?
Extremely Personal: Oh no.
Love: Don't you just love Gilmore Girls?
That last idea, that Gilmore Girls is a comfort show, something to watch when you're sick or going through a hard time, is a heavily recurring theme. For its fans, I think "Gilmore Girls Confessions" offers something similar: a respite in your timeline. A comfort on your phone, which is mostly a place of horror. A momentary escape into another world entirely, where you're just like, does anyone else think about how Mitchum Huntzberger was actually probably right when he told Rory she "didn't have it" and wouldn't make it in journalism, particularly considering the state of her career in A Year in the Life? And the answer is always yes.
This is my online oasis. I hope you can find your own, just like Lorelai's new neighbor did in season three, episode five, after divorcing his wife and moving to Stars Hollow and making his house tiki themed.