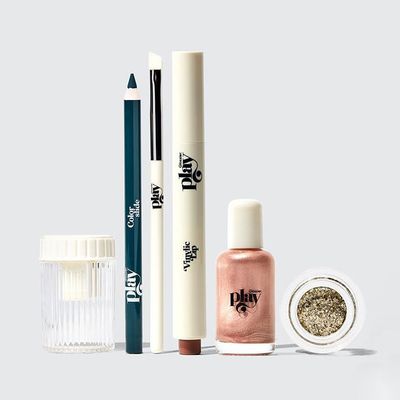 The six original members of Glossier Play.
Photo: Courtesy of Glossier
A little under a year ago, Glossier announced that it was bringing a new sub-brand into its dewy, millennial pink world. It was born on March 4, 2019, named Glossier Play, and featured uncharacteristically colorful and opaque "dialed-up beauty extras." We're sorry to report that Glossier Play as we once knew it is no more.
In an interview with Business of Fashion, Glossier founder and CEO Emily Weiss reveals that she's hitting the pause button on Play. Weiss & Co. originally thought they needed a different brand to "differentiate more intense makeup product from less intense makeup product," but, alas: "…the realization we had was, 'Huh, we could have just launched more makeup products,'" she admitted to the publication.
The makeup products Glossier truly excels at are no-makeup makeup and kind-of-makeup makeup products. You go for the moist skin-care products and stay for a stealth brow pen that tricks people into thinking you were born with those impeccably full brows.
The underwhelming response from typically fanatic customers may also be tied to the criticism the beloved brand faced following Play's launch. The public was not down with the line's excessive packaging (at launch, each Colorslide liner came inside an individual foil package that was then housed in another box, for example), and the brand's blatant use of non-biodegradable glitter in their sparkly eyelid goo, Glitter Gelée. Yesterday, in a statement addressing the brand's commitment to sustainability moving forward, Weiss confirmed that the controversial Gelée will finally be discontinued on March 2.
Glossier Play is technically gone, but not forgotten. The brand's Instagram account is still up, albeit now set to private, and the remaining members of Play (Niteshine, Colorslide, and Vinylic Lip) will be absorbed into the OG Glossier brand with new shades of the latter two in the works.