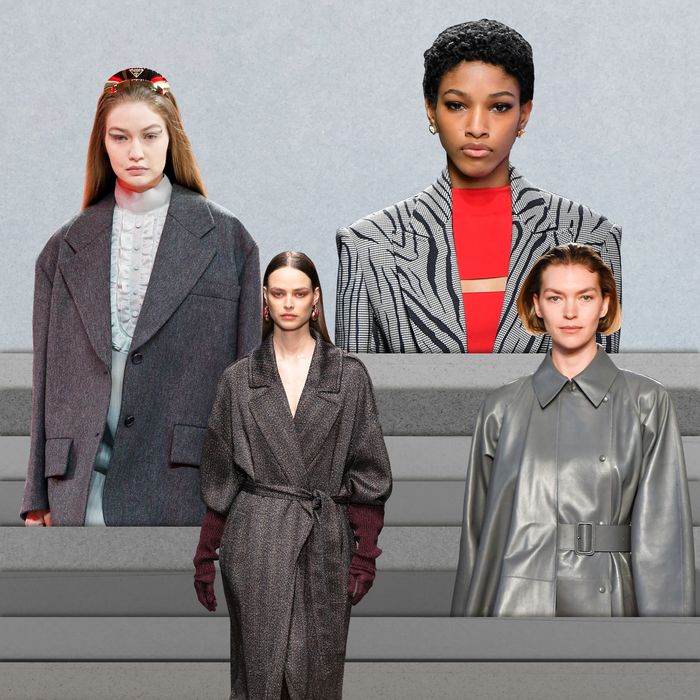 Poor gray. It deserves a redemption arc. Right now, it's far too associated with storm clouds, bland office pants, and mass-market erotica. But the Italian designers have planned a comeback for the color. At Milan Fashion Week, we saw several ways to spice up the gray in your life. Because, really, gray is a great color! It goes with everything, hides stains pretty well, and looks flattering on a wide range of skin tones. Designers and the fashion glitterati have been embracing fully neutral-toned outfits lately (cream, brown, the ever-present black), but gray has largely been left out of the conversation. Let's change that.
Just look at the luscious, slate-colored coat from Salvatore Ferragamo designer Paul Andrew. Tell me you don't want to be swaddled in that elegant leather.
Or if you prefer something a little bit more glam rock, there's Versace's suit with flared pant legs and a squiggly, doodle-like design crawling over it.
Prada, with signature girlish flair, made a case for gray tights and a gray blazer (balanced out by pastel blue and lavender).
Or maybe make it sparkly (note: sparkly gray is different from silver) a la Missoni's overcoat.
There's tons of options! It's a blank slate; make it your own.