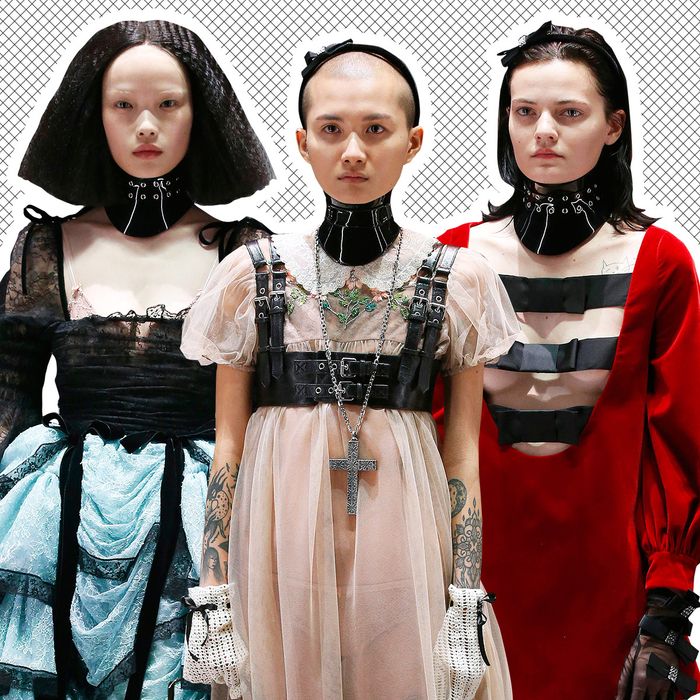 Gucci fall 2020.
Photo: Getty Images
In many ways, fashion is propulsive; a vision of the future, or at least what to wear next season. It's also cyclical by nature. The fashion calendar repeats itself, designers recycle trends and references, and thanks to the pace of online life, styles are now "back" just as quickly as they left.
I write this from the back of a car leaving the fall 2020 Gucci show, which was a particularly dizzying experience this season. The show took place on a spinning stage to the tune of Ravel's "Boléro," a repetitive march that builds gradually to the point where you start to feel like you're going a little nuts. It was runway as merry-go-round, inspired by the ritual of Fashion Week.
Five times a year, for the fall and spring seasons for men and women plus resort, Alessandro Michele designs a collection, puts on a show that lasts about 10 to 15 minutes, and then it's out in the world for others to dissect. Rinse, repeat. This time, he invited us all behind the scenes: Guests entered the show through a staging area on Thursday afternoon, where models in robes appeared to be having their hair and makeup done. These same models then proceeded onto the spinning carousel, where actual members of the Gucci design team dressed them in front of the audience. Once dressed, the models came to the edge of the stage, standing behind glass panels in a circle for everyone to see. And round, round, and round they went, until they walked off and disappeared to the real backstage.
In his show notes, Michele describes the creative space behind the scenes at a fashion show as "the mother's womb where poetry blooms" and "the blessed passage through which beauty comes out of its shell." Sure, the ritual repeats itself, but it's slightly different each time, like a church service or an eclipse. The industry's hamster wheel can really burn a person out, so it's encouraging to see that Michele still seems to enjoy the ceremony of it all.
Ironically, it was difficult to discern the details of each outfit as they whizzed past, so I had to swipe through the digital carousel that is the Vogue Runway app on my phone afterward in order to get a better look. The collection was an extension of what we've come to expect from Gucci: eccentric freaks and geeks, Italian opulence and piety, plus some kinkiness from last season, which was inspired by the Tom Ford–era at the brand. New styles included shrunken baby-doll proportions, a reintroduction of the ladylike Jackie O. handbag, and large ruffled Gone With the Wind gowns, which, of course, were all reinterpretations of the past.
We have rituals for a reason. They give us meaning and purpose and a sense of comfort. Gucci has been extremely successful doing what it's been doing, and in a world where there is already way too much stuff, I'm fine with a designer not bending to the pressure of new, new, new. (For whatever reason, the show also had 60 looks, down from around 100 the season before.) Michele is confident and knows what works for him; I continue to be interested in the tension he creates between excess and restraint, even if we've come to expect it by now.
That being said, we also break rituals for a reason. At Moncler later that same day, the brand once again disrupted the runway format by presenting new "Genius" collaborations with Rimowa and JW Anderson as well as Simone Rocha, Craig Green, Richard Quinn, and more. The formula — brilliant minds doing wild things with puffer coats — might be the same every season, but it allows for extreme creativity in the clothes. It's always one of the most exciting, totally insane things to see at Milan Fashion Week. Beyond the "Genius" collection, Moncler also let Rick Owens charter a bus to Area 51 this year with his wife, Michèle Lamy, and then somehow brought the bus to Milan as a space to display the futuristic jackets he designed. (If anyone was going to create fashion for aliens, of course it would be those two.)
Personally, I ended my night with one of my favorite Milan rituals: eating spaghetti Bolognese. My favorite fashion moment of the day, though, was one I'd never seen before: a Gucci model wearing her glasses upside down. It was a simple trick, but a change of direction can make all the difference.