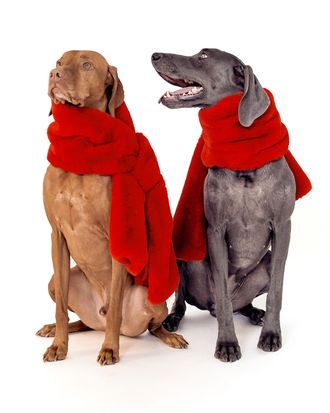 Photo: Hot Thunderstorm Studio
Today is Valentine's Day. And whether or not you're celebrating, you will probably have social media feeds filled with couples being mushy. But this, right here, is Valentine's Day content that is not about romantic love, but about cute dogs and fur. Make that cute rescue dogs and faux fur — a winning combination.
So why do we have these photos of rescue dogs in faux fur? The brand Apparis makes super realistic looking and feeling faux fur coats and accessories. They're dedicated to making a quality vegan alternative to real fur that doesn't sacrifice style, texture, or warmth. And this Valentine's Day, it's donating 100 percent of the proceeds from website sales to PETA. To celebrate/announce that campaign, the brand shot its bright red scarves and signature Manon coat on some rescue dogs. The result is pretty cute.
Regardless of your Valentine's Day plans, whether you're planning a drunk, nude feast or drinking beers in the shower, I think everyone's day will be improved by looking at the below pictures. Maybe it'll inspire you to get a faux fur and stage a photo shoot with your own dog.