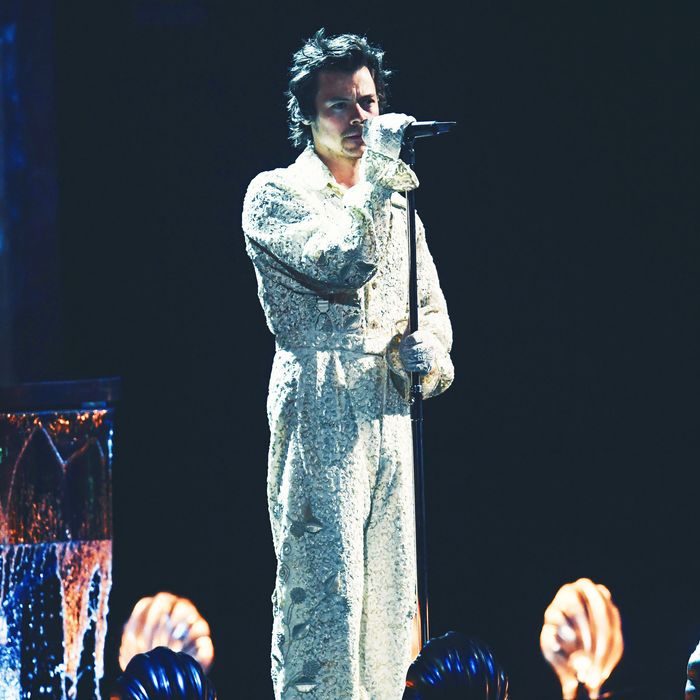 Photo: David Fisher/Shutterstock
Beautiful fashion boy Harry Styles brought three magnificent looks to the Brit Awards yesterday evening. He didn't win anything for his music, but was easily the night's most stylish nominee (save for Lizzo, who delighted as a satin chocolate bar.)
All three of his looks were typical Harry — eclectic and a bit camp. His stylist, Harry Lambert, told British Vogue that the trio of outfits are intended as teasers for his upcoming tour: "We have definitely been teasing elements of the tour wardrobe for a while now, and one of tonight's looks is a taste of things to come … but I'm not going to tell you which one."
First, he hit the red carpet in professorial granny number: a brown Gucci suit over a lavender wool sweater that matched his manicure. He accessorized with a lace bib and his signature string of pearls:
Later in the evening he switched into a delicious, sunshine-colored Marc Jacobs suit from the designer's womens' collection, which he accessorized with a pussy bow, again in lavender:
And in what was by far the best look of the night, he wore a head-to-toe lace confection for a performance of "Falling." Looking a bit like Rihanna's 2018 Met Gala sexy pope, he wore a set of cream, embroidered trousers with a matching blouse and suspenders from Gucci. Styles topped off the look with delicate lace gloves, looking for all the world like a beautiful British seashell:
Congrats to the Brit Awards winners, and thank you to Harry for offering us these fashion tapas. We can't wait to see what the tour will bring.