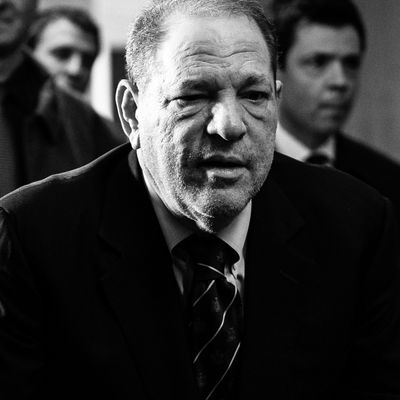 Harvey Weinstein
Photo: Jeenah Moon/Getty Images
On Monday, as a former actress wept in court while testifying about the alleged abuse she suffered at the hands of Harvey Weinstein, the disgraced Hollywood producer struggled to keep his eyes open — apparently because he was exhausted from partying the night before.
Outlets covering Weinstein's rape and sexual-assault trial in New York City noted that he appeared to doze off multiple times during the testimony of Jessica Mann, who alleges she entered into an abusive relationship with Weinstein, and that he raped her in 2013. Now, we may have an explanation: According to multiple sources, Weinstein hosted a big Super Bowl party the night before, where approximately 60 people — "including a lot of women" — spent the evening, "Page Six" reports.
Per the sources, one topic of conversation at the party was the Me Too movement, which Weinstein bemoaned as having "gone too far."
A rep for Weinstein disputes the sources' characterization of the party: "Harvey held a small get-together to say thank you," the rep said. "It was his team of lawyers, both current and some previous, his personal attorney and two friends."
While over 100 women have publicly accused Weinstein of various forms of sexual misconduct, he is currently facing five felony counts stemming from the accusations of two women, including Mann. Mann, who is the fifth woman to take the stand against Weinstein, tearfully described in court on Monday how Weinstein allegedly peed on her in the shower, and explained why she stayed in a relationship with him that she has described as sexually humiliating: "I felt approval to pursue the industry because he encouraged me too. Harvey was my father's age and he gave me all the validation that I needed." The day was cut short when Mann suffered a panic attack on the stand, leading the judge to dismiss the jury.