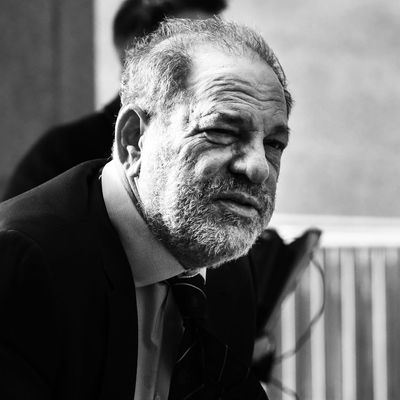 Harvey Weinstein.
Photo: Stephanie Keith/Getty Images
On Monday, a New York jury did something astonishing — it voted to convict Harvey Weinstein of two counts of rape and sexual assault. Though Weinstein's predations had become synonymous with the Me Too movement, the case was counterintuitively challenging. Over 100 women accused him, but he stood trial for assaulting only two, both of whom had maintained friendly contact with him after the fact.
In a trial that litigated years-old allegations with little physical evidence, the jury's vote to convict on the two charges that could send Weinstein to prison for the rest of his life rested on believing two women, Jessica Mann and Mimi Haleyi. Weinstein's defense had framed the case as putting Me Too itself on trial, demanding that the jury reject the "story [prosecutors] spun where women had no free will," claiming that the women who took the stand for hours of testimony and cross-examination were doing so to get ahead in Hollywood. Waging war on Me Too didn't work.
Instead, the jury accepted the complex set of facts prosecutors laid out, that Haleyi and Mann could be raped or sexually assaulted by Weinstein on one day and consent to sex with him or send him a warm note another — out of fear or denial, or out of deference to Weinstein's economic power over them. Their hands tied by statutes of limitation, jurisdictional lines, and who agreed to cooperate, prosecutors also brought four other women to testify that Weinstein had assaulted them, including the actress Annabella Sciorra. On the face of it, her testimony of Weinstein forcing his way into her apartment to rape her in late 1993 or early 1994 was assumed to be an easier narrative to sell to a jury. Sciorra even told The New Yorker that she chose to speak out in October 2017 after watching women who had both been assaulted and acquiesced to Weinstein get raked over the coals. "O.K., you want rape?" she told the magazine. "Here's fucking rape." And yet it was Sciorra's account — which, combined with either Mann or Haleyi's, would have brought the most serious conviction of predatory sexual assault — that the jury deadlocked over Friday, and ultimately chose not to convict on.
Weinstein attorney Donna Rotunno particularly sought, in the courtroom and in interviews, to go far beyond questions of due process or the contested facts at hand. "The pendulum is swinging so far in the overly sensitive direction that men can't really be men, and women can't really be women," Rotunno told Vanity Fair. "I feel that women may rue the day that all of this started when no one asks them out on a date, and no one holds the door open for them, and no one tells them that they look nice."
The defense's claim that prosecutors were trying to indict all of society wasn't entirely off base. The longstanding ordering of society has required women to stay on the correct side of male power. Jurors were asked to believe a relatively new, and radical, accounting of human relations: That it is precisely what we take for granted as the status quo — powerful men trading power and influence for sex, with or without additional force — that must be rejected. Together, the flood of testimony that came with people putting themselves on the line in the fall of 2017 could paint that picture, and as investigative journalism and as a public reckoning, it went further than anyone could have imagined.
But the criminal law is a blunt tool for that transformation. The whispers had been growing louder that Weinstein would be acquitted in New York, as the defense brought witnesses, including peers of the women who said they'd be assaulted, suggesting the contact had been consensual and transactional. (He still faces prosecution in Los Angeles.) Before Me Too, the messiness of the facts in this case ordinarily would never see the inside of a courtroom; after all, prosecutors generally don't bring cases they suspect they might lose. Weinstein had successfully avoided criminal charges in the past: In 2015, he was recorded admitting to groping Ambra Battilana Gutierrez, but Manhattan District Attorney Cy Vance declined to bring charges. There simply wasn't much precedent for believing a woman's complicated story, or even six women's, beyond a reasonable doubt. There is today.