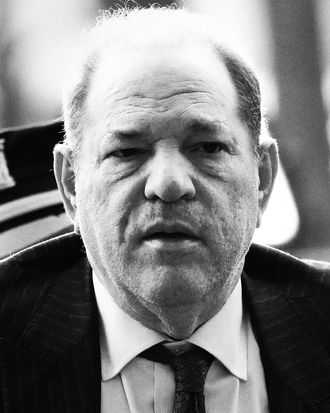 Harvey Weinstein.
Photo: JOHN NACION IMAGING/GC Images
Following his high-profile rape and sexual-assault trial in a Manhattan court, disgraced Hollywood mogul Harvey Weinstein has been convicted of rape.
On Monday morning, after nearly 30 hours of jury deliberation, Weinstein was found guilty of committing a criminal sexual act in the first degree and rape in the third degree but not guilty on charges of predatory sexual assault and first-degree rape. (Weinstein had pleaded not guilty to all five charges against him.) He now faces a minimum of five years in prison and a maximum of 29.
At least 100 women have publicly accused Weinstein of sexual misconduct since the New York Times and The New Yorker published explosive investigations into his behavior in October 2017. In Manhattan court, however, Weinstein faced charges stemming from the allegations of two women: former actress Jessica Mann and former Project Runway assistant Miriam Haleyi. Both of the rape charges stemmed from Mann's allegations that she had entered into an abusive relationship with Weinstein and that he raped her in 2013. He faced the criminal-sexual-act charge over Haleyi's allegation that he had forcibly performed oral sex on her in 2006.
Weinstein faced one predatory-sexual-assault count for each woman; however, these charges also took into account the allegations of actress Annabella Sciorra, who claims Weinstein raped her in 1993 and who testified during the trial. Three other accusers took the stand as well, testifying that they had endured similar abuse from Weinstein. (Though most of their allegations were too old to meet the statute of limitations, prosecutors called them to help establish a pattern of predatory behavior.)
Weinstein's defense argued that his relationships with Mann and Haleyi were entirely consensual. In her closing remarks, defense attorney Donna Rotunno, who has made a career out of defending men accused of sexual misconduct, launched vicious personal attacks against the six women who testified, accusing them of being driven by the desire for fame and money. Weinstein did not testify during the trial.
Weinstein is also facing rape and sexual-assault charges in Los Angeles.