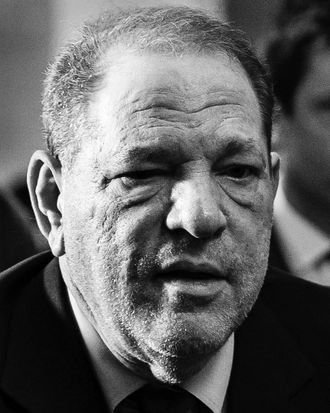 Photo: JEENAH MOON/Getty Images
On Monday, February 24, disgraced Hollywood mogul Harvey Weinstein was convicted of rape. Specifically, he was found guilty of committing a criminal sexual act in the first degree and rape in the third degree, but not guilty on charges of predatory sexual assault and first-degree rape. (Weinstein had pleaded not guilty to all five charges against him.) He now faces a minimum of five years in prison and a maximum of 29.
Although over 100 women have publicly accused the disgraced producer of various forms of sexual misconduct ranging from unwanted touching to rape, the high-profile rape and sexual-assault trial in New York was based on the five aforementioned felony counts. The counts stemmed from the accusations of two women: Mimi Haleyi and Jessica Mann.
In addition to Haleyi and Mann, four other women took the stand against Weinstein to testify about additional alleged crimes. Most of their allegations are too old to meet the statute of limitations for prosecution, but their testimonies were used to establish a pattern of behavior. In all, 28 witnesses testified.
Here are the six accusers who testified against Weinstein and what they said.
Annabella Sciorra
In late January, the actress testified that Weinstein had raped her in her Manhattan apartment in the early 1990s. "I was trying to get him off me," she told the jury. "I was punching him, kicking him." But, she said, he held her down. "He got on top of me, and he raped me … I said, 'No, no,' but there was not much I could do. My body shut down. It was so disgusting my body started to shake in a way that was unusual. It was like a seizure or something."
Sciorra testified that Weinstein continued to harass her in the years following the rape. Once, she said, he showed up unannounced at her hotel room in London, forcing her to change rooms. In the late '90s, at the Cannes Film Festival, Sciorra said she'd opened the door of her hotel room at 5 a.m to find Weinstein standing in the hallway in his underwear, with a bottle of baby oil in one hand and a videotape in the other. She said she "pressed all of the call buttons" on the hotel room's telephone. "People came," she added, "and he left." Actress Rosie Perez also took the stand to back up Sciorra's account, testifying that Sciorra had told her in 1993 that Weinstein had attacked her.
Weinstein is not facing any counts in Sciorra's case, which is considered an "aggravating" or "underlying" crime that can be used to establish a pattern of behavior.
Mimi Haleyi
Mimi Haleyi, a former Project Runway assistant, has accused Weinstein of forcibly performing oral sex on her and raping her in 2006, when he was her boss. She described a pattern of harassment in the years before, alleging that Weinstein had called her into a meeting in his hotel room to ask for a massage and had repeatedly asked her to travel to Paris with him, at one point showing up at her apartment uninvited to convince her to take the trip.
On the stand on January 27, Haleyi described the alleged assault, which she says occurred in Weinstein's apartment in July 2006. "Really soon into me being there, he kind of came towards me and lunged at me, trying to kiss me. I got off the sofa and said, 'Oh, no, no…,'" she recounted. "We were having normal conversations, the television was on, we were sort of watching it … and then, at some point … he came forward to me and lunged at me, trying to kiss me."
Haleyi described pushing Weinstein away, noting that "he would just pull me back and keep kissing and fondling me, and I got up and I tried to walk away from him." She described being backed into a bedroom. "He held me down on the bed, and he forced himself on me orally … I kept trying to tell him, 'No, don't go there, don't do that. I'm on my period. I've got a tampon in. It was as if he didn't believe me," Haleyi said. "He literally pulled my tampon out."
"He pushed me down. He held me down by my arms … 'No, stay, like that' … and I said, 'No, no,' and at that time I started realizing what was actually happening and I thought … This is being raped," she testified.
Haleyi described a second assault, two weeks later, at a Tribeca hotel, noting that Weinstein "was very persistent and insistent" and that she had agreed to meet him because she thought that doing so would somehow enable her to regain a sense of power. She testified that, almost immediately, Weinstein threw her onto a bed and forced himself on her. She said that she laid still the entire time and that he had called her a "whore" and a "bitch." "I didn't resist. I just laid there," she said.
Elizabeth Entin, who was Haleyi's roommate at the time, testified in court on January 28. According to her testimony, in the summer of 2006, Haleyi told her that she had gone to Weinstein's apartment for a work-related meeting and that the producer "threw her down, and she was still saying stop, and he pulled off her underwear, pulled out her tampon, and went down on her while she was saying no."
She said she encouraged Haleyi to seek out a lawyer after hearing her account. "I said, 'Miriam, that sounds like rape,'" she told the jury.
Weinstein is charged with one count of criminal sexual act and predatory sexual assault involving Haleyi.
Dawn Dunning
Former actress Dawn Dunning testified on Wednesday morning that in 2004, Weinstein touched her genitals without her consent and later offered her movie roles in exchange for a "threesome." Of the first meeting, in which they were discuss a role, Dunning testified that "I was talking with Harvey, and he kind of led me into the other room. And I sat next to him on the bed, and I was wearing a skirt that day … and he put his hand up my skirt … His hand went under my underwear … He was trying to put it in … put it in my — he was trying to put it in my vagina."
Lincoln Davies, an ex-boyfriend of Dunning's, told jurors Thursday that Dunning returned from her meeting "shocked, upset, angry, kind of overall appalled … She ended up crying."
Tarale Wulff
Tarale Wulff, formerly a cocktail waitress and currently a model, testified on Wednesday that Weinstein both masturbated in front of her at a members-only Soho lounge and raped her in 2005. Wulff said she met Weinstein while working at Cipriani Upstairs. "He asked what I did, and I said I was an actor," Wulff told the jury. "He said that you have a great look, you should come talk to my people." Then, she continued, he grabbed her arm and pulled her up a set of stairs to a secluded part of the club. "Once he had me in front of him, at some point, I said, 'I have to get back to work,' and he was like, 'One second, one second,'" Wulff testified. "And I noticed that his shirt started moving … and I realized he was masturbating under his shirt."
Wulff explained that she subsequently got a call from someone at Weinstein's company about meeting with a casting director. When she got to Weinstein's office for what she believed was an audition, however, she said she was shuttled into a car that took her to his Crosby Street apartment. Wulff alleged that Weinstein held her arms and laid her on the bed while she herself felt "numb."
"He was on top of me, and I said, 'I can't.' And he said, 'I had a vasectomy,' and I just went blank and looked off," Wulff told the court. "He put himself inside me, and he raped me. I just remember getting up."
Jessica Mann
Jessica Mann, 34, who was an aspiring actress when she met Weinstein, testified on January 31 that he forced oral sex on her and raped her in early 2013. Mann also alleged that she entered into an abusive and sexually humiliating relationship with him. She explained in court that she was concerned about breaking it off, fearing Weinstein's temper and for her family's safety.
Mann testified that the first sexual incident occurred at a party she attended with a roommate, where she said Weinstein pulled her into a hotel room and forced oral sex on her. At a subsequent meeting, she said, Weinstein again pulled her into a hotel room and demanded she undress, blocked her exit, and raped her.
After these events, Mann said she "made the decision to be in a relationship with [Weinstein]," noting later that she "was sexual with very few people" and "entered into what I thought was going to be a real relationship with him — and it was extremely degrading from that point on."
Mann described, in harrowing detail, Weinstein's treatment of her throughout their relationship: "He would talk very dirty to me about fantasies and things and compare me to other actresses that he said were doing kinky, dirty things with him … He always wanted to film me. I never gave him permission … He would say, 'Do you like my big, fat Jewish dick?'"
She also said Weinstein once peed on her, and she described his appearance and hygiene: "The first time I saw him fully naked, I thought he was deformed and intersex."
Mann also described an instance of sexual violence that occurred after she told Weinstein she was dating an actor:
"He threw me down on the edge of the bed, and he was demanding that I take off my clothes, and I was begging him," she said while crying. "He stood over me, and he said, 'Take off your clothes,' again, and I said, 'No,' again … And he said, 'I don't have time for games,' and he lunged at me with both hands and they went into my pants, and he ripped my pants so hard and so fast off of me that I had three scratches down each leg, from the top of my thighs to the top of my knee." Mann said she may have passed out and then she was on her knees, "and he's shoving his penis in my mouth." Mann says Weinstein then climaxed, "and it choked me, and it was so bad, and when he was done, he went and laid on the bed, and I crawled into the bathroom on my hands and knees … to try to get out this taste in my mouth."
Mann alleged that Weinstein then said "things like, 'Okay, now — now you can go have your relationship, and what you can do is you can bring me other girls. You can be my — what do they call it? A wing girl."
On February 3, the defense team questioned Mann, prompting her to revisit the incident when Weinstein peed on her: "We were in the shower. He wanted to shower first, which was beneficial to me … and he asked me to come into the shower and then he said to me, 'Have you ever had a golden shower?' And I said no and then I felt him peeing on me," Mann reportedly said. When Weinstein's attorney, Donna Rotunno, asked her why she didn't leave or say "no, thanks," Mann explained, "I was in shock by it. It was gross … I turned into the corner of the shower and just looked away."
Rotunno also produced emails from Mann, one she'd sent to Weinstein in August 2013 in which she praised his genius, and one she sent to her then-boyfriend in May 2014. Mann read the latter, written to Twilight actor Edi Gathegi, aloud. "My secret and my fear is knowing that a part of the dynamic I had with Harvey would mean you'd never talk to me again … I was close enough to him to tell you that he no longer has a working penis. On the lower half of his body he had some type of surgery or burn and he's lucky to have his parts," she said, sobbing. "Harvey validated me. He always offered to help me in ways that my parents wouldn't. I felt approval to pursue the industry because he encouraged me to. Harvey was my father's age, and he gave me all the validation that I needed."
New York Supreme Court Judge James Burke dismissed the jury after Mann broke down on the witness stand, reportedly suffering a panic attack. Weinstein, meanwhile, apparently fell asleep for part of the testimony. When cross-examination resumed the next day, and the defense reportedly attempted to portray Mann as a careerist retroactively rewriting her relationship with Weinstein, Mann was firm. "I do want the jury to know that he is my rapist," she said.
Lauren Young
Lauren Young was a 22-year-old model and screenwriter when she met Weinstein in 2013, expecting to pitch him on a script she'd written. Instead, she told the jury, Weinstein assaulted her in a hotel bathroom. (Young is also involved in the Los Angeles case against Weinstein.)
According to Young, model Claudia Salinas — whom Young had previously run into at a Beverly Hills dinner party — set a meeting with the movie mogul for February 19, 2013. Salinas would be there too, and Young didn't expect anything but networking. When Weinstein showed up at the lobby bar of the Montage Hotel, Young recalled, he was distracted and on his phone. Eventually, she said, he told the women he had to do something for director Quentin Tarantino and told them to come up to his room. They did, and that's where Weinstein allegedly corralled Young into the bathroom. Young says she saw Salinas shut the door, and when she went to open it, "He was already naked. It was the quickest I have ever seen anybody undress. Then he stepped in front of me."
"I felt so trapped, and I was in shock, and I started backing away from him," Young told the court. She added that, as Weinstein kept reassuring her they were "just going to have a talk," she repeatedly told him no. When she turned away from him, she said, he unzipped her dress and pulled it down, pinning her arms to her sides and turning her around to face him. "My hands were down to my sides because the dress was pulled down to my elbows — so my breasts were out," Young recalled. "At that point, he went from grabbing my right breast to touching my vagina." He proceeded to masturbate until he ejaculated onto a towel, she continued, and then he left the bathroom, leaving her "standing there in shock."
Young added that she told two friends what had happened, but although she was "traumatized, terrified, paranoid," she never reported it because "he has power, and I was scared."
Ryan Beatty was one of those friends. Beatty, a music producer, testified Thursday that he spoke with an "extremely upset" Young in the immediate aftermath of the alleged incident. "She's just hysterically crying," Beatty recalled. "She just couldn't get words to come out. It was probably the worst I've ever seen her."
This article has been updated.