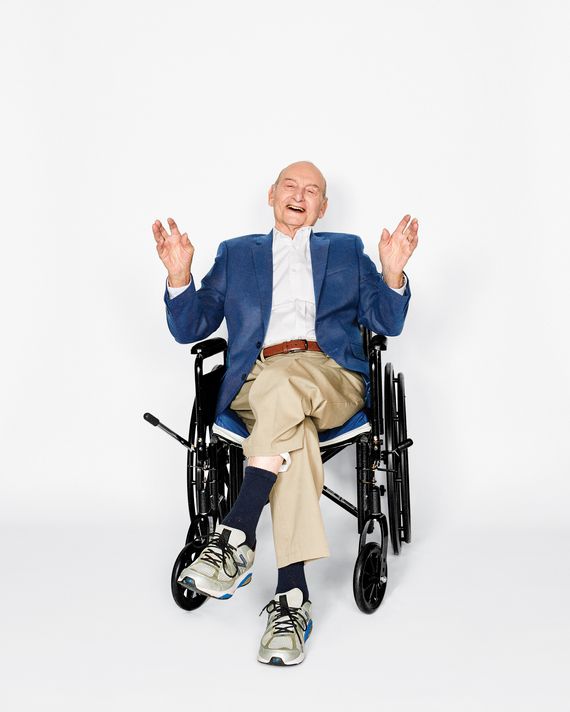 Sal Markowicz.
Photo: Kyle Dorosz
Above: Sal Markowicz, 95, Former Plasterer.
Great blazer.
Yes, I like to look good. Every day, you can see I wear nice shirts and jackets. This one or my even more elegant Yves Saint Laurent one. I like to be clean; you'll never see a spot on my pants. In my room, you can see a picture of me from my wedding, in Belgium—I was in a very nice suit.
You're from Belgium?
I am from Poland. In 1939, I went to the concentration camps. From 14 years old to 19, I moved from camp to camp. Then Brussels to Israel to Riverdale.
What's a normal day like for you here?
I play dominoes, which I'm very good at. I usually play with a woman named Sandra. We spend most of our time together. We sit together at breakfast and lunchtime. We play rummy and dominoes. Then we go to supper. I like spending time with her. She likes spending time with me.
What's your average day?
Oh God, there's no such thing. Today, art therapy, enamelware class at 1:45, chair yoga at 2:15, a cere­mony with the rabbi. He plays the guitar for us.
Who do you sit with at meals?
Rich, who's a drummer. We talk about a variety of things, everything from the stars in the universe to music. He's a very talented guy, and he dresses like a 1960s beatnik.
You were a teacher?
Yes, in various schools in Queens and Manhattan. In the early '50s, one of my colleagues was a gentleman named Carroll O'Connor. Yes: Archie Bunker himself. I ate lunch with him every day for a year.
Where are you from?
Czechoslovakia. In 1939, my father put me into the home of a lovely Catholic family, who knew I was Jewish. But eventually, I was caught and taken to a concentration camp in Slovakia. You never know where you'll end up. America was the furthest dream for my life.
You were an actress?
When I first started, I was very young, 16, in Die Fledermaus in Florida.
Then I went on to New York, which was thrilling. I was in Gigi and La Cage aux Folles. I was an understudy for Carousel. I loved to sing and act. Just hand me a microphone, and I'm a real ham.
*This article appears in the February 17, 2020, issue of New York Magazine. Subscribe Now!