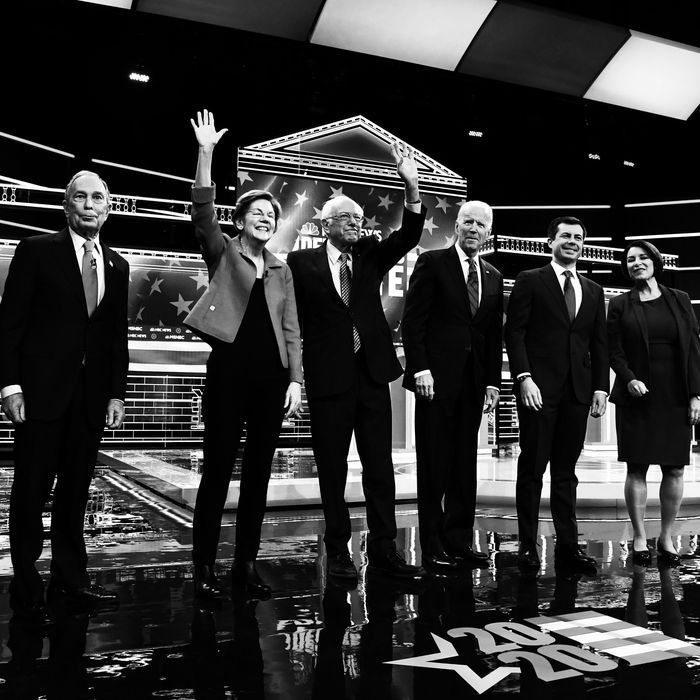 Photo: Ethan Miller/Getty Images
Expectant and aspiring parents reckon with many worries. There are the usual fears — will my child be healthy, will I be a good parent, when exactly do they start sleeping through the night — and then there are others, which are specific to the American experience of parenthood.
The U.S. is not a great place to be a parent. Unlike every other developed country in the world, the U.S. doesn't guarantee paid leave for new parents, and offers families few ways to defray the rising costs of child care. Moody Analytics recently estimated that the typical American household with children spends about 10 percent of its income on child care. The cost is so significant that some young adults report putting off parenthood, or having fewer children than they desire, because of apprehension about the financial burden.
Though child-care expenses have been rising for years, they've received an unprecedented degree of attention from Democratic presidential candidates this primary cycle. Most have directly addressed child care, either through stand-alone proposals or as part of broader education plans. Most have either co-sponsored or endorsed Senator Kirsten Gillibrand's FAMILY Act, which would guarantee 12 weeks of paid leave for new parents and family caregivers. (Child care and family leave were signature issues for Gillibrand's short-lived presidential campaign.)
On Monday, the primary's front-runner, Senator Bernie Sanders of Vermont, became the latest candidate to release detailed child-care policies. Below, see how Sanders's plan stacks up against the field's other top candidates. These descriptions aren't meant to be comprehensive explanations for every single child-care provision introduced in a candidate's proposal. For that, you'll want to follow the links to their websites.
Bernie Sanders
The primary field's only democratic socialist has consistently said that he supports universal child care. On Monday morning, he released a detailed policy proposal to explain how he'd achieve that goal. Under the Sanders plan, parents could rely on guaranteed free, full-day, full-week care for children ages 3 and under. Sanders would also direct the departments of Education and Health and Human Services "to develop federal standards for ensuring that all federally-funded child care settings include children with disabilities and do not discriminate on the basis of disability." The plan also calls on Congress to pass the Universal School Meals Act, which Sanders introduced with Representative Ilhan Omar, and which would make school meals free for all children. It also allots funding for the renovation of child-care facilities, doubles funding for the Maternal, Infant, and Early Childhood Home Visiting Program, and ensures that child-care workers are paid a living wage.
The Sanders plan reflects the senator's preference for universal social policy. It isn't means-tested, so the benefits it sets forth are available to anyone regardless of household income. The campaign estimates that the plan will cost around $1.5 trillion, which would be covered by higher taxes on corporations and wealth.
Elizabeth Warren
Warren released her own child-care plan last May. It stipulates that families with household incomes below 200 percent of the federal poverty line would pay nothing for child care. Households above that income level would be on the hook for some fees, but the plan caps expenses at no more than 7 percent of a family's yearly income. A four-person family with a household income of around $50,000, for example, would get free child care. Warren would also direct the federal government to partner with existing community-based child-care centers to create a national network of care providers. Like Sanders, Warren would defray the costs of her proposal with her own version of a wealth tax. The campaign also eventually released a cost calculator allowing parents to see how much they'd pay for child care if Warren's plan ever became law.
Warren also backs 12 weeks of paid leave for parents and caregivers. Though the Massachusetts senator released her plan before Sanders did, her definition of universal child care differs from the Sanders version in one key respect. Warren's plan incorporates means-testing: eligibility standards based on household income. Middle-income and wealthier families would have to pay for child care, though they'd pay less than they do at the moment.
Joe Biden
The former vice-president has not released a stand-alone child-care plan, but he does address early childhood learning in his existing education proposal. In it, Biden says he will provide universal pre-K for 3- and 4-year-olds. Like Sanders, Biden also promises to double funding for voluntary home-visiting programs, which provide development specialists and social workers to at-risk families. According to Biden, parents could receive breastfeeding advice, job search support, and tips on basic preventative and prenatal care.
Otherwise, Biden's plan lacks child-care specific detail. In an interview with Fortune, Biden added that he would authorize tax credits of up to $8,000 to meet child-care costs, and said that he believed new parents should get 12 weeks of paid parental leave. Sanders, meanwhile, had previously said he supports six full months of paid parental leave.
Pete Buttigieg
Released this past December as part of a broader education proposal, the Buttigieg campaign's child-care policies closely resembles those put forward by the Warren campaign in May of the same year. Buttigieg would also make child care free for the nation's lowest-income households. No parent would pay more than 7 percent of their total income on child-care expenses.
In other respects, the Buttigieg plan for child care is a bit light on detail compared to the policies released by other candidates. It emphasizes "freedom of choice," meaning that "options will include Head Start programs, local public programs, various private centers, or a high-quality home-based program that suits their needs." But as one child-care expert told The Nation last month, it's not clear how Buttigieg defines "high-quality" standards, or how he intends to enforce them. The Buttigieg proposal also includes a promise to "support" voluntary visiting programs that facilitate house calls from social workers and child-development specialists, but offers no further details on what that support might look like.
Michael Bloomberg
The former mayor of New York City published a child-care proposal on his campaign's website this past December. In it, Bloomberg says he would guarantee 12 weeks of paid leave, "increase" funding to an unspecified amount for voluntary in-home visiting programs, and expand funding for child-care tax credits. Bloomberg would also expand the Earned Income Tax Credit so the low-income families who receive it can use it to cover caregiving expenses, and create an "Innovation Fund" to help child-care facilities improve their infrastructures.
Bloomberg's policies don't have the universal reach of the proposal released by Sanders. The former mayor also probably isn't the most credible advocate for improved child care. The Washington Post reported earlier this month that according to a sexual-harassment complaint filed by a former employee, Bloomberg "berated" a female employee struggling to locate consistent child care. "It's a f- - - ing baby! … All you need is some black who doesn't have to speak English to rescue it from a burning building," he allegedly said.
Amy Klobuchar
Like most candidates in the primary race, Klobuchar has said she'd guarantee new parents and caregivers 12 weeks of paid leave. The Minnesota senator, who is running as a moderate, also pledged to cap child-care expenses at 7 percent "for families making up to 150 percent of their state's median income through a new federal-state partnership." That appears less generous than proposals introduced by Sanders, Warren, and Buttigieg. Klobuchar has also promised to raise wages for early childhood educators, though the plan available on her website doesn't specify by how much. Klobuchar does say she would pay for her plan by raising corporate taxes by a point, and by reversing the corporate tax cuts passed by Republicans in 2017.
Klobuchar recently suffered her own child-care scandal. Accounts of the senator's workplace abuses included the claim that new parents had to remain employed with Klobuchar's office for "three times as many" weeks as they took off, a rule that hindered their job searches.