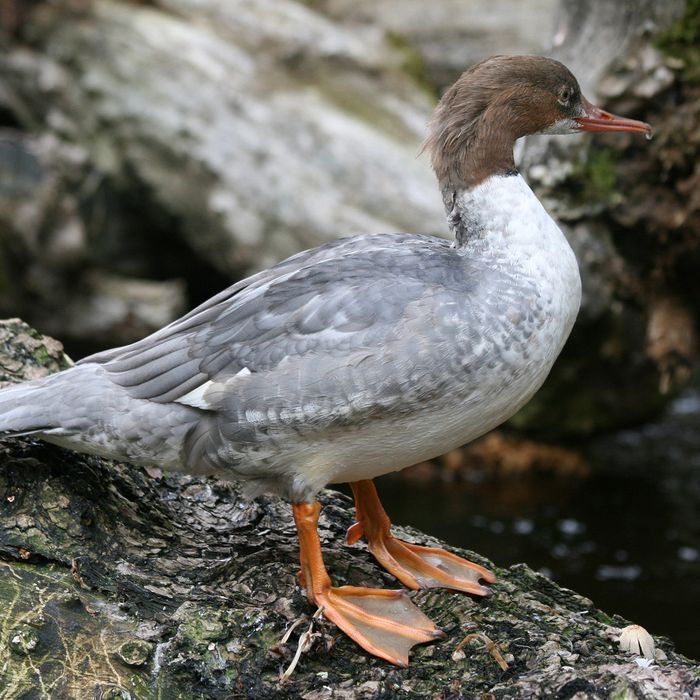 When summer comes around, everyone basks in the glory of Central Park's hot duck. But come winter the park's ducks need attention, too — especially this common merganser duck, which, according to local news reports, is suffering from a plastic ring that has tragically wound its way around her beak and neck. The condition is potentially life-threatening. All the park's resources (that I have read about today) are focused on finding the common merganser and reviving her to full health.
Despite its name, the common merganser is, in fact, rare. At least in Manhattan, making it an exciting prospect for uptown birders. This specific one was spotted by birder Sandra Critelli and bird photographer Bradley Kane, who took pictures of the duck over the weekend and posted them to Twitter after noticing its predicament. Critelli told Gothamist that she alerted a member of the Wild Bird Fund and went off with them to try to rescue the duck, to no avail. "[It] clearly looked in trouble with that plastic ring around its lower beak and neck," she said. "Eventually she will die because of a little plastic ring, and that is really sad." Experts agree that the ring must be removed soon, lest it choke or starve the bird.
On Monday, Gothamist reports, Urban Park Rangers tried valiantly to find the bird, kayaking upon the lake where she was spotted, blending in seamlessly with the uninjured ducks that followed alongside. This is what that brave and noble kayak operation looked like:
Sadly, according to NYC Parks press officer Megan Moriarty, "The Urban Park Rangers have been unable to locate the bird, but they are continuing to monitor the area." The objective of the ongoing mission, she added, "is to rescue the bird, remove the plastic, and transport the animal to the Wild Bird Fund so they can assess its overall health."
David Barrett, who manages the Manhattan Bird Alert Twitter account, is also on the case.
Protect Manhattan's precious merganser at all costs! We must locate this bird and heal her, no matter how many kayaks capsize in the process.