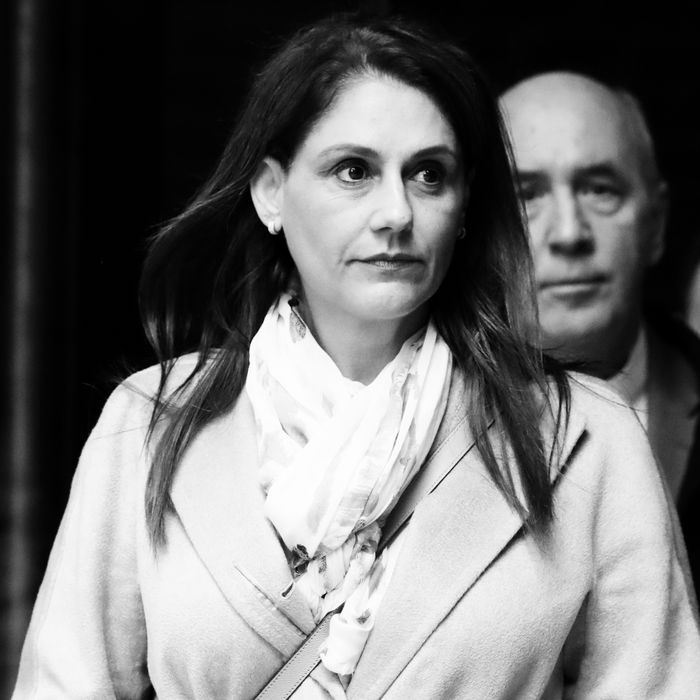 Michelle Janavs
Photo: Craig F. Walker/Globe Staff/Boston Globe via Getty Images
Nearly a year after news first broke of the college admissions scandal — in which dozens of wealthy parents (some of them famous), exam administrators, and athletics coaches were charged in connection with a scheme to buy kids' way into top colleges — an heiress to the Hot Pockets fortune is still keeping the controversy fresh.
On Tuesday, CNN reported that Michelle Janavs, whose family engineered the unassuming yet ubiquitous microwavable snack known as Hot Pockets (before selling the company to Nestlé in 2002), was sentenced to five months in prison after she confessed to hiring Rick Singer, the consultant who masterminded the cheating operation. Janavs paid Singer $100,000 to have an exam proctor correct her daughter's ACT test after the fact. She was also all set to pay $200,000 to pass one of her daughters off as a beach volleyball recruit at the University of Southern California. According to prosecutors, Janavs was arrested before her daughter could be admitted to the school.
In court documents, prosecutors characterized Janavs as one of the "most culpable parents" charged in the investigation, pointing out that she didn't own up to her role in the scandal until months after she was arrested. Janavs was also reportedly ordered to pay $250,000 in fines and serve two years of supervised release once she gets out of prison.
In the days before her sentencing, Janavs's lawyers maintained that their client was manipulated by Singer's charming sales pitch, and argue that she shouldn't be sentenced to prison time because she's already been punished enough. In court documents, her lawyers wrote, "The fallout from Michelle's actions stand as a beacon to others that illegal shortcuts are a recipe for disaster, regardless of the punishment the court imposes on Michelle." Indeed. Instead of following that recipe, perhaps she should have simply had a microwaveable treat.
This post has been updated.