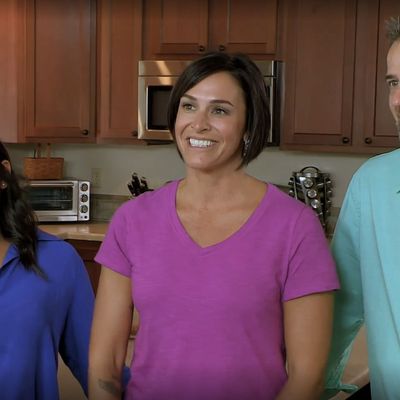 Geli, Lori, and Brian.
Photo: HGTV
Today we celebrate love in all the glorious forms it takes: that which is unlikely; that which is distinctly modern; and that which exists between three people — more specifically, the throuple in search of a house with a master bathroom featuring three sinks, which they absolutely deserve.
On this past Wednesday's episode of House Hunters, the aforementioned throuple went to HGTV with a few simple parameters: They wanted a home in Colorado with a master bath that can accommodate three sinks. This, as noted by HGTV's website, was apparently a "difficult" request.
But they were not deterred. Brian, Lori, and Angellica have been making major life decisions as a polyamorous throuple for quite some time. In 2002, Brian married Lori, who is bisexual and open to non-monogamy. So, as Brian says during the episode, the couple "evolved to a point where [they] were comfortable having another woman in [their] lives." Four years ago, the couple met and fell in love with Angellica, who goes by Geli. "I didn't plan on being in a relationship with a married couple," Geli said, "but it just happened very naturally, organically."
She added, "The past four years, I've been living in Lori and Brian's house, so buying a house together, as a throuple, will signify, like, our next big step as a family of five rather than all four of them plus me." (The throuple lives with Brian and Lori's two children.)
Also, about the sinks: Each partner deserves their own wash basin to dirty as they please. While I know these three love each other endlessly, neither Lori nor Geli should have to encounter — and in all likelihood, clean up — Brian's drain, which I can assume gets clogged with mats of shaven face hair. Similarly, I doubt Lori and Geli would want to share a sink area; can you imagine having two leaky tubes of bright-blue toothpaste on both sides of the basin? Absolutely not. In this house, every person gets their own damn sink — end of story.