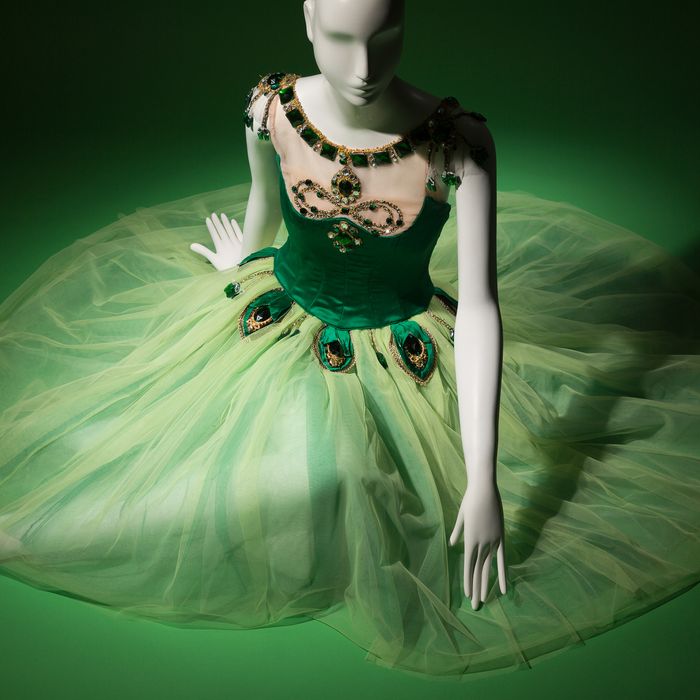 Barbara Karinska, "Emeralds" costume from
Jewels
, originally designed in 1967. Lent by the New York City Ballet. ©The Museum at FIT
Photo: Eileen Costa/The Museum at FIT
"Ballerina" conjures an image recognizable even to dance dilettantes: the girlish elegance of tutus, ballet slippers, leotards, the works. The Museum of the Fashion Institute of Technology showcases that mode of dress with their new exhibition, "Ballerina: Fashion's Modern Muse." Curated by Patricia Mears, deputy director of MFIT, this is the first large-scale exhibition that explores the link between ballerinas and high fashion in the 20th century.
"Certainly over the past number of decades, we can instantly recognize things that are inspired by ballet, whether it's a flat ballet slipper, or a gown made from tulle," Mears says. "For example, [in] the opening credits for Sex in the City, Sarah Jessica Parker is wearing a sort of modified version of a little tutu."
The exhibition includes clothing designs inspired by ballet, as well as actual costumes worn by ballerinas. There will be work by designers including Chanel, Christian Dior, Pierre Balmain, and Charles James. "Everybody did their take on the ballet style," says Mears.
Below, Mears takes the Cut through a selection of pieces inspired and worn by ballerinas, on view now as part of "Ballerina: Fashion's Modern Muse," open from February 11 to April 18 at the Museum at FIT.
"Probably the most influential ballerina of the 20th century, [Anna Pavlova] did as much as anyone to take ballet to the far corners of the world. She was a very fashionable woman. We have her Dying Swan costume that's being lent to us by the Museum of London. This may be, for many dance fans, a once-in-a-lifetime opportunity to see this garment."
"We wanted to show this whole 1930s period of the long romantic tutu. We have an extraordinary costume from 1932 that's being lent to us by the Victoria and Albert Museum. It's [from the Balanchine ballet Cotillon.] I guess the word would be 'cotillion' in English. It is based on this idea of a girl's first dance. The costume is long and romantic, and the one that we have is black velvet and black tulle with big stars on it, the golden stars."
"We also found a Chanel dress that I believe is inspired by [Christian Bèrard's costume for Cotillon.] It's dark tulle, and it has stars embroidered on it. I think it also points out the interconnection between the ballet companies, couturiers and artists because Christian Bèrard was the designer of the costume."
Mears explains that their collection of Margot Fonteyn's clothes helps explain the ballerina's history. After her dance partnership with Rudolph Nureyev, "her style and clothing completely changed. She moved to Yves Saint Laurent and started wearing miniskirts. We're hoping that we can show the human side, the importance of presentation offstage as well as onstage. These dancers took their career seriously. They took their image seriously, and [were] always trying to do it to the very highest standards."
"New York City Ballet is lending us quite a number of pieces that were designed by the great Barbara Karinska. She collaborated on many productions with George Balanchine. Like Balanchine, she was an émigré from Eastern Europe. Her costumes are extraordinary, so productions like Jewels will be in there."
"We also have costumes by the Dance Theatre of Harlem. I've always been concerned that you look at fashion magazines and the women are all beautiful, [but there's] not much diversity. A dancer's life is hard anyway. But for women of color, it was extraordinarily difficult. The fact that there were some who could break the barrier and really have a dance career as early as the 1940s and '50s, was amazing. We also have gowns by stars like Virginia Johnson, who was the prima ballerina of the Dance Theatre of Harlem for nearly 30 years. When she left the company, she founded Pointe magazine. Now she's back as their director. We will have her gowns right next to Margot Fonteyn's gowns. For me, it really [shows] that the story's a little bit richer than just the famous names that you may know were in the magazines."