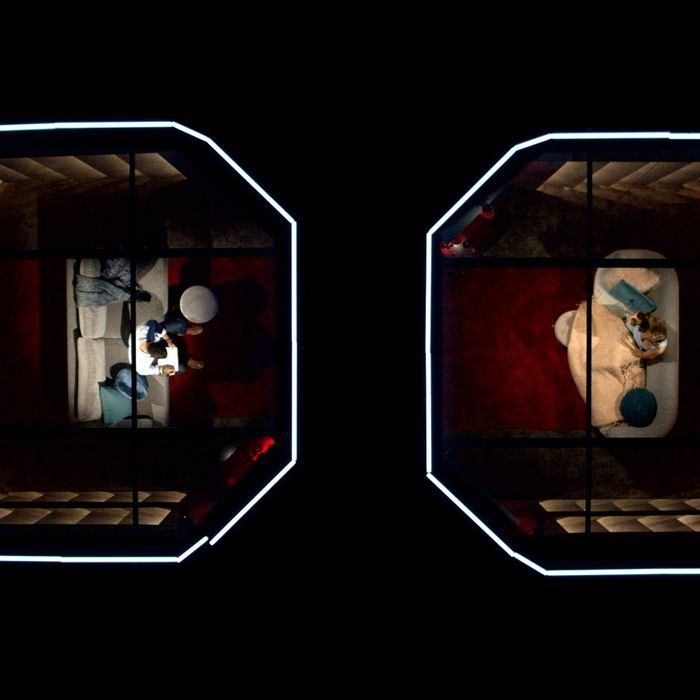 On Love Is Blind, Netflix's bonkers new reality dating show, contestants decide in a matter of days that they're ready to spend the rest of their one wild and precious life with a person who they've only ever spoken to through a wall. Results are — as you might expect — mixed. But what does it take to get someone to completely release what remains of their grip on reality and tell a stranger on the other side of an opaque wall that they can't imagine a life without them?
One of the contestants, Rory Newbrough, told Women's Health that there was a method to the reality TV madness. The experiment began with 15 women and 15 men. After each contestant had met with every person of the opposite gender, they would rank who they liked the most. Producers cross-referenced everyone's lists and progressively cut the number of dates down from 15, to 8, to 2. As the number of dates dropped, the time spent with each person increased, from 30 minutes to several hours.
"We ended up spending 19 or 20 hours a day just talking," Rory said of Danielle, the woman to whom he would eventually propose. "I started to realize there were parts of me — walls I put up — and I didn't even know they were there. I wasn't even aware of them, and they were just blown open. I was crying the whole time. It was this crazy, emotional experience."
Those hours weren't just for talking, or drinking wine. Producers gave contestants activities to keep them occupied in their pods. Barnett, the show's resident fuckboy, got a ukulele to strum. Rory made "a horrible painting that I hope they never show."
If you don't remember Rory's painting, or his engagement, it's because they never got any airtime. The experiment turned out to be so successful (at least in the early, pod-based stages) that it took producers by surprise. After Rory proposed to Danielle, he says producers gave them their phones back, wished them the best of luck, and told the couple they simply weren't equipped to follow their story.
"They were like, 'We were expecting one or two [engagements], not eight! We set up to film five!'" Rory told Women's Health.
Perhaps the most jarring detail about the filming of Love Is Blind, though, is that it took place over a year ago. As contestant Damian Powers told Refinery29 last week, filming for the first season ended on November 15th, 2018. Per R29:
Using the math — 38 days total, 10 days in the pods, and 28 days face-to-face — would mean that the Love Is Blind couples all met in the pods around October 9, 2018, and in person on October 19, 2018. 
Damn. Accidentally seeing a picture of yourself and an ex on social media is hard enough. What was that all about, you wonder. Now, imagine getting engaged to someone a week after you met them, having your relationship meltdown in a spectacular fashion, and then, being forced to relive it all again over a year later, after you've healed and moved on, alongside a few million Netflix viewers.
It sounds painful. But please remember, no matter how upset you are about a past relationship — televised or otherwise — please don't use it as an excuse to give your dog wine.