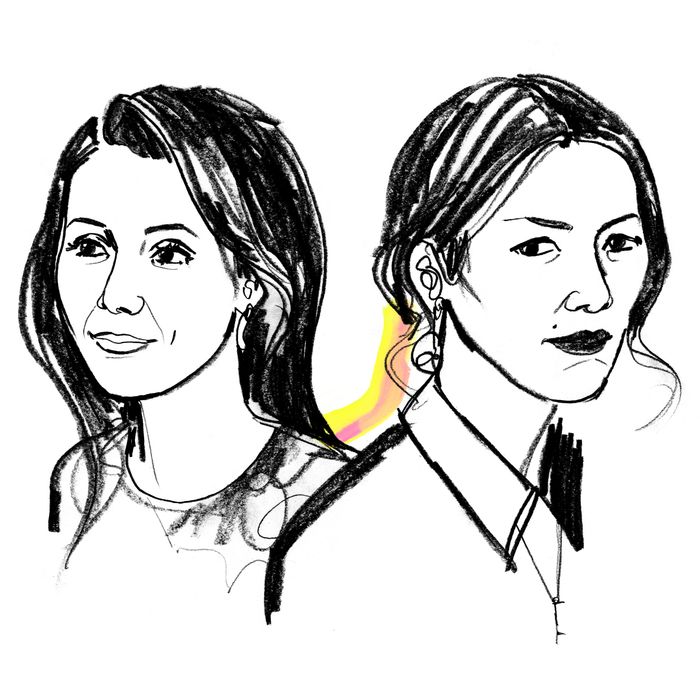 Illustration: Lauren Tamaki
Sarah LaFleur and Miyako Nakamura co-founded M.M. LaFleur in 2011 with the goal of making it simple for women to find beautiful and high-quality workwear at a reasonable price. The brand is known for its predesigned capsule wardrobes that allow customers to mix-and-match pieces to create two weeks' worth of outfits, which they call "Omakase," after the Japanese meal where the chef chooses the menu. In 2018. Inc estimated the company made $70 million in revenue. LaFleur, the CEO of the company, came to M.M. LaFleur after years of working in finance and management consulting; Nakamura, the creative director, previously worked at Jason Wu, Theory, and Zac Posen. LaFleur and Nakamara live in New York. Here's how they get it done. 
On getting dressed in the morning: 
Nakamura: I love getting ready in the morning. To me it's important that what I have on really reflects what I'm feeling that day. It's quite intuitive for me. I land on one piece of clothing that I'm excited about for the day, and then style everything around that starting point.
LaFleur: I try to get out the door as fast as I can. I find getting ready the most painful part of my day.  Every day I'm kind of swearing at myself, wondering why my husband is out the door so quickly and I'm sticking around for another 45 minutes. So I try to get through that portion pretty quickly.
On how they ended up working in fashion: 
Nakamura: I grew up in Japan, and came to the U.S. for college. But I struggled shopping in America, because nothing was exciting for me. I would always go back home and buy a lot of stuff and bring it back to America to wear. It made me realize that I really do care about clothes, so I decided to go into a fashion major. I started as a merchandising major, but that was a lot more analytical than creative. I tried design classes and I just loved everything about it.
LaFleur: Before M.M. LaFleur, I was working in private equity and management consulting. I always had the idea to start [a workwear line], but I  never thought I would actually act on it. But I was miserable at my last job. I was in tears all the time, so I quit cold turkey. I turned in my two weeks notice, but I didn't have a next plan. Because I had been with that company for such a short period of time, I felt like I had ruined my resume.  I thought that no one would ever hire me again, so I was like, maybe this is the time to work on that project that I thought could be something. It wasn't like, Ooh, I want to start a fashion company. [Finding nice work clothes] was a genuine problem I had that I wanted to go solve.
We tend to think of being unhappy as a negative thing. But there's a lot of good that can come out of listening to why you're so unhappy. It's important to remember that your career actually spans 40, sometimes 50 years. The little changes that you make at a certain point in your career are really a blip on the radar, and not this life-changing moment.
On starting a business: 
La Fleur:  I knew nothing about fashion when I started, so the first thing I did was talk to a bunch of people who worked in the industry. If I knew anybody who knew anybody who worked in fashion, I asked if they were willing to grab coffee with me. Everyone's busy, but I think I got more yeses than I did nos. I spoke with one person who ran a factory in India, and another who was a designer at a fashion house, and I started to piece together what M.M. LaFleur could look like.
I was so hard on myself back then.  I would kick myself because I always felt like I wasn't making enough progress. But in retrospect, I think that was a  really important and even beautiful time for me to formulate my ideas. When you're trying to bring your ideas together, it's important to kind of indulge and marinate in that time.
On finding a business partner: 
Nakamura: For me, it's important to find someone with a shared sense of values.  "What do you value in your life?" That has to be shared, because ultimately, that's how you make a decision. If you're aligned on values, the decision makes sense most of the time.
La Fleur: My mom is also an entrepreneur, and she gave me this analogy. She always said that you want to be founders with someone who takes taxis at the same rate as you. You don't want to work with somebody who's too spendy and is always taking cabs, but you don't want someone too thrifty that they never take cabs. If you're gonna work together and share all of your professional finances together, then you have to make sure that your values are  in sync.
On working together: 
La Fleur: Our roles are very clearly defined, and our lanes are very different. That helps. I don't think we've ever stepped on each other's toes. We trust each other to run that side of the business. I wouldn't know the first thing about design. Miyako says she doesn't know anything about numbers, but she's actually incredibly business savvy. Our partnership works because I can say to her, "Hey, I know you love this product, but the demand is just not there. The numbers don't reflect it." And then Miyako is quick to say either let's drop it, or she'll say, I know the numbers are not going to be there, but it's important to have from an inspiration perspective. I understand that, too. Being able to have those conversations is really important.
Nakamura: Often, Sarah makes an almost ridiculous request for product. She's like, it would be nice if yoga pants were work pants. She asks for things that she wishes existed, and my job is to materialize that. The back and forth of, no that's not a great idea, but what about this? creates a product. On a product level, that's how we work together.
On managing stress:
La Fleur: I go hiking every Saturday or Sunday. My husband and I go to a state park that's 45 minutes from the Upper West Side. It's been life changing for me to have that. Just like being out in the forest helps a lot. I would also say that between me and Miyako, we have a lot of humor.
Nakamura: We can laugh at problems.
La Fleur:  We just went to India together for a week. It was partially for work inspiration, and partially just to  spend time together and be in each other's company.
Nakamura: I really try not to get  stressed because I really can't do my job then. I'm constantly watching myself to make sure I'm in the right state of mind to be able to get inspired.
On finding inspiration:
Nakamura: I think that grasping on to something that sparks some kind of inspiration is important for what I have to deliver for the team. It's very difficult. In the end, I kind of have to be selfish. So if I feel like I need to go look at a painting or a gallery, or talk to someone, or even see a movie, I prioritize that. I try to not feel guilty for taking time to  open up my brain.