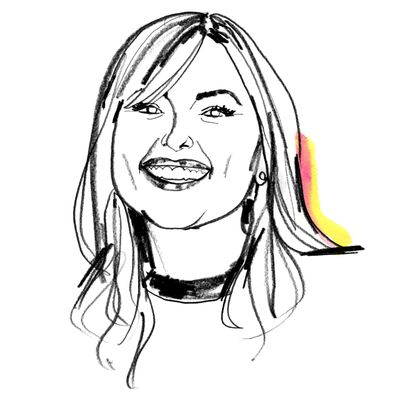 Hillary Kerr.
Illustration: Lauren Tamaki
Hillary Kerr is the chief content officer of Who What Wear, the fashion site that she co-founded with Katherine Power in 2006. In the years since, she's expanded the company from a site chronicling celebrity style to a global media company, Clique Brands, which includes a fashion line at Target and Power's clean skin-care line, Versed. It was named one of Fast Company's 50 most innovative companies in the world in 2017. Before founding Who What Wear, Kerr worked in the features department at Elle and as a freelance writer. She also hosts the podcast Second Life, where she interviews women who have made major career changes. Kerr lives in Los Angeles with her husband, Jonathan, and their two young children. Here's how she gets it done. 
On a typical morning: 
I have a 2-year-old son and a 4-month-old daughter, and they have definitely made me a morning person, albeit slightly against my will. Right now, I get up at 7 a.m. to feed the baby. While I'm doing that, I also look at my email, skim Slack, and check Twitter and Instagram. I don't have a ton of time to really do a deep dive on the news until I get to the office, but I like to take an initial glance to get a sense of what's happening in the world.
I just started drinking caffeine again after not having it during my pregnancy. For breakfast, I'm obsessed with Kelly LeVeque and her Fab Four smoothies. She's the most amazing nutritionist. The smoothie is really simple: unsweetened almond milk, a ton of spinach, natural peanut butter, protein powder, and flaxseed. On the days I exercise before work, I'll just have a handful of almonds, and then pick up a version of the smoothie at Earthbar on my way into the office. Basically the only workout I'll do is called LEKfit, which I usually refer to as "tiny trampolines," because everyone gets their own personal trampoline to jump on. You go back and forth between jumping and running on the trampoline and using weights and doing resistance training. It's amazing, and the studio is halfway between my house and the office, which makes it ideal.
On efficiency: 
I like a twofer. If I'm driving or am in a car, I either have calls scheduled, or I'm listening to a podcast. I used to just drive, but now if I'm in the car, I want to either be learning something or getting something taken off my schedule.
The thing I didn't expect about being a parent is how much more efficient it would make me in all areas of my life. Because I have limited amounts of time to do things, it has made me extremely efficient and also made me prioritize in a different way. I still worry about things and will be stressed about things. But having that perspective of, is this life or death, is this really a big deal in the grand scheme of things? has been very helpful in cutting through the clutter and noise in my life.
On having a second child: 
It's still the early days of having a second kiddo, but I've been pleasantly surprised that it has been more manageable than I imagined. I think going from one to two is easier than the transition from zero to one. That said, I also have a really amazing support system. My husband is a truly hands-on, 50/50 partner in parenting (and life!) and we are able to work with a wonderful nanny who is incredible with both kids. My parents and sister-in-law live relatively close by and are all amazingly helpful too, so our situation is pretty lucky. I think the other part of making all of this work is just realizing there's a season for everything. Right now while both kids are little, they are our focus.
On parental leave: 
Parental leave is really important to me. I know not every entrepreneur is able to take it, but I think it's important to lead by example, so I took the entire four months we offer. That said, I was back on email about a week after I had Wilder, and was on Slack every day. I worked a few hours a day, almost every day, but I did it from home, which felt like a luxury.  I recorded 15 podcast episodes while on leave, plus I had normal work stuff, like our 2020 planning, budgets, reviews, and all of that, plus daily check-ins with the editorial team regarding pacing, and frequent check-ins with all of my direct reports, too.
On inspiration: 
You just never know where a great idea will come from. That's why being really tapped in to not only your city and your community, but also the world at large helps give you perspective on when something's actually trending, when it's the right time for us to cover something, who we should be thinking about casting for a cover in six months. If you aren't going to art museums, you might not necessarily pick up on a reference when you see a collection. It all comes through seeing what's going on around me in the world.
On being "on": 
When I was freelance, that was really my first taste of always being "on." I realized my income was based on my ability to generate and sell ideas to other magazines, and so there was no 9 to 5. In the beginning I found that tiring and I was resentful of it. But I actually think that was really great training for being an entrepreneur. My brain is always on to some degree, because you don't know where the next idea is going to come from. Where I used to find that intrusive or tiring, now I find it inspiring and stimulating.
I also have pretty firm boundaries. I try not to email or contact my team outside of office hours unless something's on fire. I am always open if someone needs me,  but I also try to decompress a little bit when I come home. My son goes to bed at 7:30, so for that hour and a half I have with him at home at the end of the day, I try and be really present. I let everyone know I'm going to be offline. If you need anything, I will address it the second I come back on. But I think it's really important to be respectful of your team. When I was younger and would get an email at 9 p.m. from my boss, it stressed me out even if it wasn't about anything stressful. Just because I have a great idea at 10 o'clock at night doesn't mean that anyone needs to hear it at that exact second.