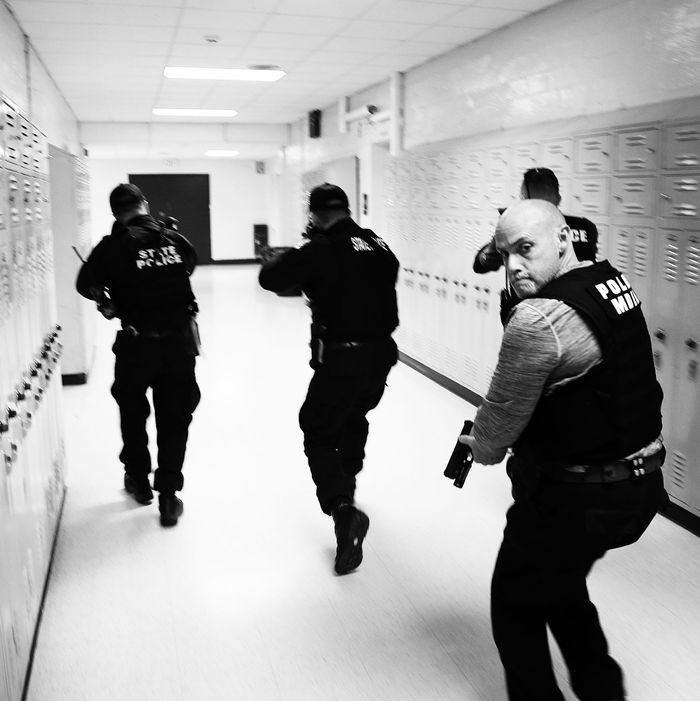 Photo: Derek Davis/Staff Photographer/Portland Press Herald via Getty
Mass shootings are on the rise in the United States, and schools have been using increasingly militarized school-safety measures, including "active-shooter drills," in which students must pretend to hide from a gunman. According to a new report authored by two of the country's largest teachers' unions, these are too often implemented in a way that terrifies, and even traumatizes, young children.
The report, written jointly by the American Federation of Teachers and National Education Association, recommends that schools stop implementing active-shooter drills for students, or at least seriously overhaul them, arguing in a report released on Tuesday that they can do real damage to students' mental health. It's not surprising when one considers the content of many of these exercises. Some schools don't inform the students they are in a drill until it's over; some use actors dressed as "masked gunmen" or require children as young as 3 to be in a confined space over a long period of time. According to a recent NPR report, 57 percent of teens are worried a shooting will happen in their school.
The report states that the number of active-shooter drills has risen sharply in recent years. The practice first became a known entity after the Columbine High School shooting in 1999. Between 2005 and 2016, the percentage of American public schools that drilled students on lockdown procedures (in which they are ordered to remain in confined areas and given a series of procedures to follow) grew from 40 percent to 95 percent, even though "there is scant evidence that they are effective at preventing deaths in school-shooting situations."
According to the New York Times, there were 13 school shootings last year. Of these, two were perpetrated by police responding to other incidents at the school (in one case a student who brought a gun to school, in another a student stabbing a school resource officer).
The report recommends that schools focus on training teachers to respond to an active-shooter situation instead of on drilling students. "Our organizations do not recommend training for students," the report says. The report also suggests some guidelines for schools that still decide to implement drills, like giving advanced notice and eliminating drills that simulate real incidents.
Melissa Reeves, former president of the National Association of School Psychologists, is quoted in the report as saying, "What these drills can really do is potentially trigger either past trauma or trigger such a significant physiological reaction that it actually ends up scaring the individuals instead of better preparing them to respond in these kinds of situations."