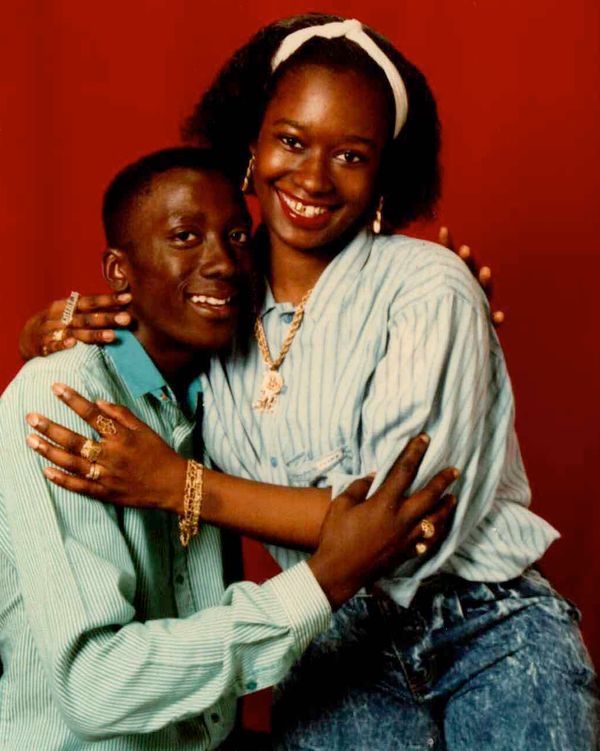 Elroy Gay and Lillie Gay, 1987.
Photo: Joseph Borukhov
Once upon a time in the 1980s — long before the days of Ludlow House, $7 lattes, and recently relocated frat boys — the Lower East Side was one of the most ethnically diverse (and affordable) neighborhoods in Manhattan. Today, only traces of those previous tenants and their businesses remain in the wake of gentrification, making the remaining stalwarts feel all the more precious. Rainbow Shoe Repair, an unassuming cobbler business, is one of these anomalies — they've been in business 40 years now. Those who frequented the Delancey Street storefront in the '80s, '90s and early '00s remember it as more than just a place to mend soles. Rainbow Shoe Repair was a place to make memories.
Rainbow has amassed its fair share of detailed Yelp reviews throughout the years, but even the most loquacious fail to mention that the store used to operate a photo studio. The original owner, Josef Borukhov, began offering passport photos to his clientele in the '80s, and soon after expanded his offerings. Rainbow became a destination for affordable graduation photos, family photos, engagement photos, or just plain "'fit pics" (read: outfit pics) with friends. It became a cherished space in an era that predated phone photography, back when getting your picture taken was an intentional, formal event. Lower East Siders went to Rainbow for more than casual snapshots; they were engaging in documentation rituals that allowed them to freeze a moment, feeling, or relationship in time — and keep it forever.
In the summer of 2018, curator Ali Rosa-Salas discovered images from Rainbow when flipping through Lower East Side native Sammi Gay's family album. She was struck by the composition of the shots and the intimacy between photographer and subject, not to mention how relevant the fashion remains 30 years later. "I thought about the power of nostalgia and the pride LES residents have for where they are from," Rosa-Salas explained. "I thought about the importance of this neighborhood in setting fashion trends on a global scale … how much this community has endured and the current complications it's facing."
Soon after, she visited the Delancey Street storefront with fellow curator Brooke Nicholas. "The owner disappeared into a backroom and emerged with crumbling manila folders, spilling out with unclaimed photographs from the '80s, '90s and 2000s," says Nicholas. These were far more artistic than your typical in-and-out passport-photo setup. These shoots put couples, graduates, and families in dozens of unique poses, and often involved background and outfit changes. "Each captured the unique style and personality of the sitter," says Nicholas.
This forgotten archive formed the basis of a show now on view at Abrons Arts Center: Rainbow Shoe Repair: An Unexpected Theater of Flyness. Rosa-Salas and Nicholas joined forces with fashion scholar Kimberly Jenkins to put out an open call for photographs taken at Rainbow. Clientele came forward to share their snapshots and the stories behind them. Rosa-Salas notes: "Many of these images are old, fragile, and the only one of its kind that exists. We are extremely grateful that residents have entrusted us with pieces of their personal archive."
Attending the show at Abrons Arts Center (just a five-minute walk from Rainbow) feels like a family reunion. There's a warm familiarity that washes over you when looking at the Rainbow display. Even if you don't know anyone in the photos, you'll feel like you do, because each moment captured is intimate, proud, and loving. Visitors will see groups of friends dressed to the nines in hip hop apparel, young parents with babies, and siblings embracing each other above the caption "Memories of 1987." For photographer Ilya Shaulov, who worked at Rainbow for 13 years, the opening was an actual series of reunions. Shaulov, who also photographed the opening, found himself face to face with many of his past subjects. "It feels good that many people in the neighborhood remember me and my work," he says.
Individuals featured in the exhibition pointed and said things like "that's my son," providing context to peers and strangers, unbidden. Shawntel Dunbar reflected on her own portrait in front of the rainbow backdrop: "It was taken just after I started a new job. I really wanted to dress the part, because I was working down on Wall Street. I wanted to fit in, but I didn't want to take away from who I was."
Jessica LeBron described her teenage sitting: "I was feeling very Mary J. Blige at the time, with the baggy clothes and a backwards hat. When I look at this picture, I see that I was standing in my power; I can see my inner light. I was smiling and looked sweet, but growing up in the LES meant I also knew how to protect myself."
Many of the photographs depict fashion designer Elroy Gay (father of Sammi Gay, whose family album sparked the project). One of the clear standouts is an image of Gay and his daughter on Halloween. She says of the image, "I was dressed as a black Barbie and my Dad picked the outfit out. This picture makes me proud of him, his work ethic, and our evolving father-daughter relationship." Elroy Gay explained how this kind of portraiture empowered the community: "If you got your pictures taken at Rainbow, you were somebody for some reason. If you looked jiggy that day, you would take a photo. If you had enough money, you would get two. Still to this day, the Lower East Side is one of the fashion boroughs. We won't judge what you do, but we will judge how you dress!"
As charming as the exhibition is on the surface, it's about so much more than style and tenderness. It celebrates the communities of color that have made the Lower East Side what it is. While outside forces actively seek to erase these communities, these images that honor their ingenuity, achievements, and familial bonds are not just powerful — they're vital. The subjects captured are undeniably diverse, but each has something in common: They decided that the day they documented was one worth remembering. Now, thanks to Abrons, these preserved moments of flyness are a part of New York's shared history.
Rainbow Shoe Repair is on view at Abrons Arts Center until March 29.