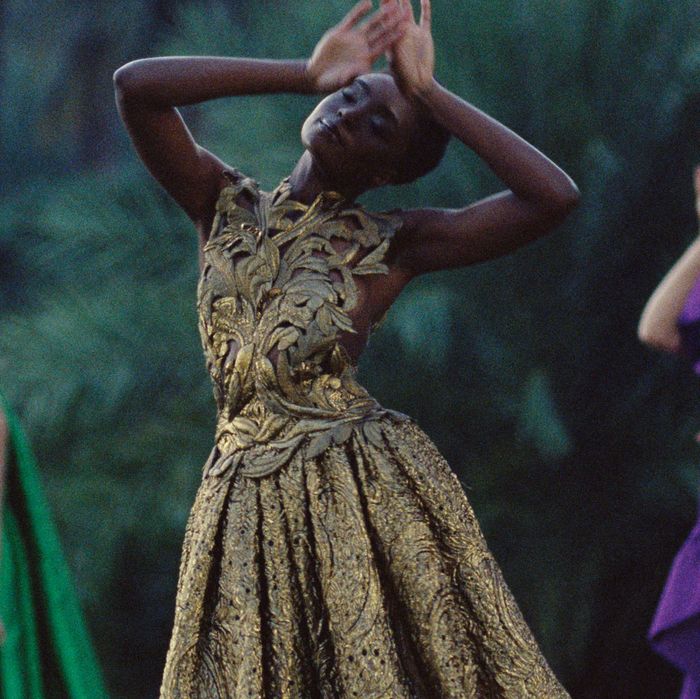 Here's an idea: Universal Basic Wardrobe. Give everyone one Valentino gown per month. Of course, this didn't work for Andrew Yang, and I'm not sure who would be buying all these gowns if they were being handed out for free, and also I imagine Valentino's designer would hate this scheme, but if you don't look at it too closely, the idea of a world entirely outfitted in ruffled red dresses is a beautiful vision.
Lucky for me, Call Me by Your Name director Luca Guadagnino has created that world in a new short film called The Staggering Girl. Valentino designer Pierpaolo Piccioli collaborated with the director and provided the costumes — most of which are fresh off the runway Valentino gowns, dresses, or perfect wide-leg pants. In The Staggering Girl, which stars Julianne Moore, Kyle MacLachlan, and Mia Goth, everyone is clad in a design masterpiece.
In the film, which is available now on Mubi, Moore plays an Italian woman who returns to her childhood home to confront her ailing mother and have frequent flashbacks to her childhood. She's also somewhat haunted by a woman, played by KiKi Layne, who repeatedly appears and vanishes. It's 30 minutes of a fashion fantasy. There's Moore's first outfit, which is a black turtleneck blouse and a pair of black wide-leg pants. Her second outfit is a ball gown with ample side-boob exposure, paired with black opera gloves and contrasting perfectly with another character's pink, ruffled dress. Layne appears first in a pink coat with giant sleeves, next in a white tulle trapeze dress. I won't spoil the ending, but it involves a rainbow of gowns.
I'll confess I didn't totally follow the plot, but that may have been because I was too busy wondering what I may look like in that red gown that Goth wears in one scene, lit by a single light. Probably great.