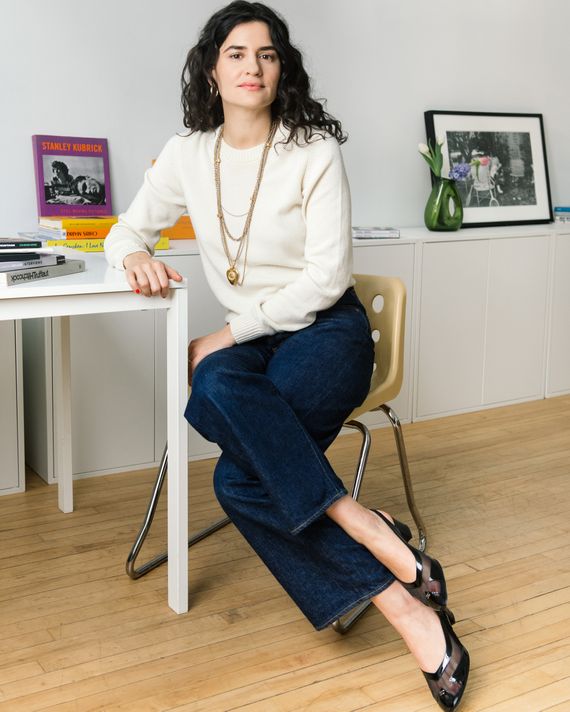 Marie-Louise Khondji runs the curated short-film streaming service Le Cinéma Club, which she founded in 2015. While streaming services normally make you think of binge-watching Mad Men while balancing a bowl of Tostitos on your chest, Le Cinéma Club has more panache. A new film is showcased each week and is available for free on the site for seven days. Currently, a Greta Gerwig film is the pick of the week. Then, a new one comes along. There's also behind-the-scenes content from hits like Uncut Gems and interviews with directors on their favorite films. It's also backed by Chanel.
Khondji grew up in the film world: Her father is cinematographer Darius Khondji, who has worked on Midnight in Paris and Se7en. What sets her streaming service apart, in her eyes, is the attention paid to curation — a carefully selected combination of well-known directors and up-and-coming filmmakers. Khondji's wardrobe is also thoughtfully curated; she said the image she wants to project is "professional, tasteful, uncomplicated." We spoke with her about comfy sneakers, the items she always packs while traveling, and her goals for Le Cinéma Club.
On her everyday outfit: I'm usually wearing sneakers (lately Nikes or Asics), boots, or chic flats — it depends on my mood and the weather. You'll rarely see me wearing heels to the office, because I like being able to run around. [For a big meeting, I'll wear] well-cut trousers and a nice shirt or sweater. Sometimes a nice piece of jewelry, like earrings from Phoebe Philo's Céline, Repossi, or Catherine Lévy's Dorette. I often have to rush to a screening after work, but thankfully these aren't the red-carpet ones. I don't live too far from my office, so I can change if necessary. Sometimes I'll throw on something more fun, maybe a dress or knee-high boots.
Shop Ballet Flats
On travel: I always pack a lint roller, as well as a hard drive full of films to check out for Le Cinéma Club. I dress comfortable but elegant when traveling. You always make random encounters on planes, like when I met French filmmaker Claire Denis on a plane to the Toronto Film Festival, and our conversation led us to track down her long-lost NYC short film Keep It for Yourself, which we premiered on the site.
On an average day: I get to the office between eight and nine. The days often start off early, because we work a lot with people in Europe. Then it's a mix of emails, meetings with filmmakers or programming partners, researching new talents and films, clearing film rights, reviewing content and visuals for the site, and developing the company. I try to stay in the office as much as possible — there's rarely a slow day.
Shop Minimalist Gold Earrings
On the challenges of her job: [My biggest challenge is] growing and expanding Le Cinéma Club to accomplish all the things we'd like to do in the future. I think what makes the site special is its distinctive curation, and we've been getting into events and production. We're trying to grow carefully so that the voice remains as curated as it has been from the beginning.
On the best parts of her job: Celebrating and promoting great films and talents! It's rewarding to feel like the site is part of a community, and we get to showcase so many incredible filmmakers early in their careers.
Marie wears Chanel mesh and patent calfskin slingbacks and a Barrie sweater.
If you buy something through our links, New York may earn an affiliate commission.