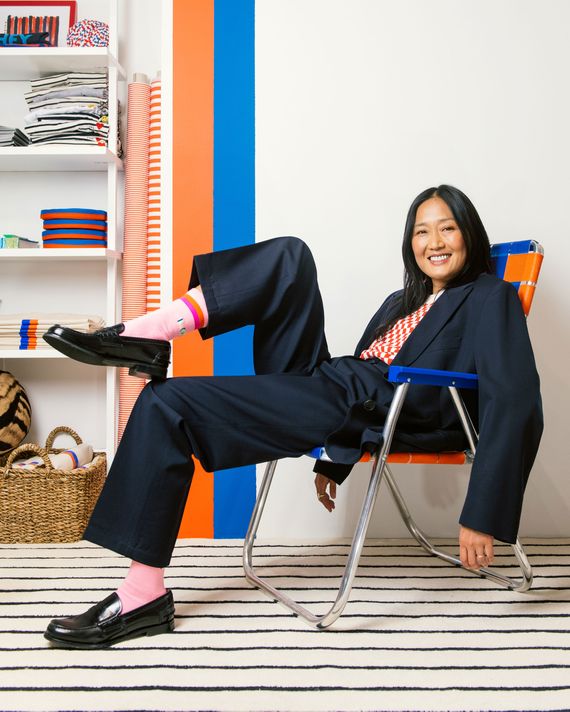 Step inside the world Mei Tao captures through her camera. It's happy and optimistic in here, and everyone is well dressed.
Tao is a portrait and fashion photographer who was born in China and raised in Brooklyn. Growing up, she wanted to work in fashion but knew she wasn't much of a designer, so she decided to major in photography. "I fell in love with the craft. I was all in to make a career in photography work — so you could say I had no plan B." Luckily, her plan A worked.
Tao shoots ads for brands like Bobbi Brown, J.Crew, and Warby Parker. She's shot celebrities like Michelle Obama, Awkwafina, and, importantly, Milo Ventimiglia looking like this. Outside of professional work, she does #meiskitchenportraitseries, exploring all the different ways you can photograph someone sitting at a plain white table. We spoke with her about dressing for the weather on set, the best packing advice she's ever gotten, and personal style.
On her everyday shoes: My go-to day-to-day shoes are sneakers, loafers, and oxfords. When I travel for work, I will pack loafers and fly in my sneakers. But if I'm on location, say at the beach, up on a mountain, or on wet London streets, I'll adjust my footwear according to the situation. Appropriate shoes are key since I am on my feet constantly. I have shoes for all situations.
On dressing for the occasion: Who I'm working with certainly affects how I dress. I like to give the impression that I am excited to be wherever I am. Making an effort to look good makes me feel good. I try to ask: Who am I meeting? Where will the meeting take place? What's the objective of the meeting? I can go from a skirt, blouse, and sandals, to a blazer, shirt, jeans and loafers or boots, or slacks and a sweater with a great coat and sneakers. Comfort is key and I have to feel like myself in it.
On packing: A men's stylist gave me good advice on how to pack: Pick a color palette (let's say navy, white, khaki, and pink). That will help you focus, and so when you are on the trip, what you brought will work well together. I always pack jeans (because you can get multiple wears out of them), men's-style shirts, a blazer, a cardigan, a cashmere sweater, a sweatshirt, and a light jacket. I choose the shoes after I pack the clothes: one casual pair that I will fly in, and one semi-dressy pair that I pack. I also like to pack interesting socks and throw in a silk or cotton neck scarf for added interest.
I want to be a carry-on person as much as possible, because it makes getting in and out of the airport so much easier. But if my work trip is a location shoot where I will be outside in different weather conditions, then packing becomes about dressing for the shooting environment, which then makes me a check-a-bag person.
Shop Fun Socks
On dressing for the plane: I wear loose-fitting jeans (my body blows up on flights), a long-sleeved cotton T-shirt, and a sweatshirt or cashmere sweater to wear if I get cold, tie around my waist if I get hot, or throw over my shoulders if I want privacy. And then some kind of jacket or blazer so I feel put-together. Plus light and comfortable shoes like sneakers or desert boots to allow my feet room to expand. And let's not forget the very important knee-high compression socks. I don't care how uncool they might be; my whole body thanks them when I land.
On being a freelancer: Every day is a bit different for a freelancer. If I am on set, my day is whatever the shoot demands of me. I love the built-in unpredictability that comes with my job. I try to be as prepared as possible while keeping an open mind when changes arise. They always do. Same-same is boring; I like challenges.
When I'm not shooting, I'm tending to the business side of my work. My office manager keeps me on track or else I would be wasting his time and money. The business work is invoices, organizing new work, archiving, editing, updating visuals to go after new projects.
On professional challenges: It's great have a reputation for a certain kind of work, but it's also confines you to that work. As a creative person, growth and change are part of the process. It's sometimes frustrating when I get pegged as someone who only takes one kind of picture. I do but I am also growing, my eyes are constantly exploring, so the challenge is to change the perception but still have their confidence. Opening new doors is an ongoing challenge.
On personal style: I've had a tomboy style as far as I can remember. The difference is now I can afford more expensive clothes. I love men's-style clothes. I have always known what proportions work on my body and I stay with that. I never buy "my size," I choose by how I like clothing to fall on me. I enjoy a mix of high and low, a touch of bad taste, an unexpected color thrown in, and I love well-made things with not-so-obvious details. Currently I am into high waisted wide-legged pants with sweater tucked in, an oversized checked coat, men's-style shoes, and a pair of fun socks.
Shop Menswear-Inspired Shirts
Mei Tao wears Church's shoes. If you buy something through our links, New York may earn an affiliate commission.