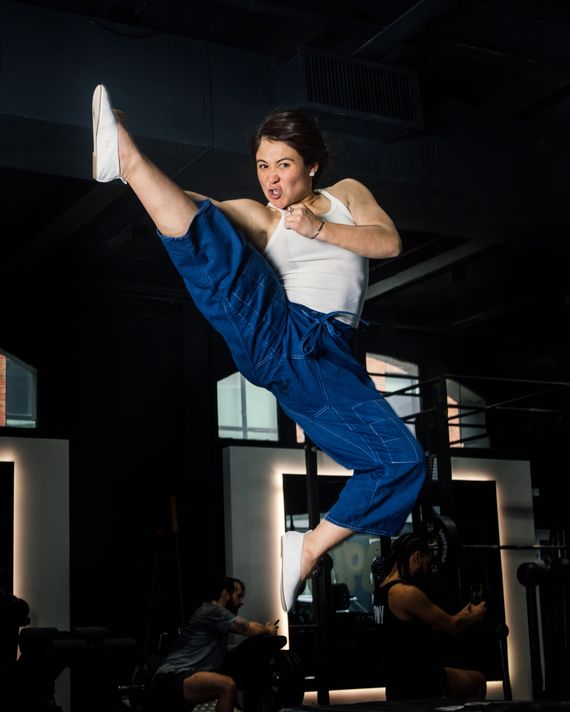 Mindy Kelly can turn you into a black belt in 24 hours, provided you just need to play one in a movie. Kelly became the first woman to lead all the stunts on a feature film when she worked on the 2019 movie The Art of Self-Defense, starring Jesse Eisenberg and Alessandro Nivola. She had only 24 hours to teach Nivola, who plays the leader of a martial-arts studio, how to fight convincingly.
Kelly is used to being a pioneer. She has won more than a dozen world titles and was the first female martial-arts judge on ESPN. She describes her career trajectory as "a journey into the abyss," but in a way, she's been training for it since she was 4 years old and first started studying martial arts.
Stunt coordinating, of course, requires a different wardrobe than most careers. We spoke with Kelly about flame-retardant clothing, vintage pantsuits, and dyeing her clothes indigo.
On her everyday shoes: Above all else, safety comes first. I work both on and off camera — these days, more off camera. I love working directly with talent and helping a director's vision come to life.
I'm always rocking my martial-arts shoes that I indigo-dye myself. Indigo has so many benefits (it's naturally fire retardant, anti-bacterial, and ecofriendly), and wearing those shoes is the closest I can get to being barefoot. They allow me to move freely and look good with any outfit. On exterior shoot days in more extreme locations (like outdoors or industrial environments), Danner boots are my go-to.
On personal style: I dress for functionality. If your energy is right, you can make anything work. I know what I'm doing, and the clothing I wear won't change that. I wear the clothing; it doesn't wear me. So unless I'm covered in fire gel, fake blood, or dirt, and need to change before going out after work, I just rock whatever I have on and maybe toss on a jacket. If I'm going to a big meeting, my go-to is vintage pantsuits.
On how she got her start in Hollywood: I started martial arts at the age of 4 and always knew I wanted to inspire others the way the arts have inspired me. As I grew older, I learned that cinema was the best way for me to reach as many people as possible, so I pursued the uncertain career of being a filmmaker.
Martial arts is what got my foot in the door, as a performer, and I've been learning, adapting, and evolving ever since. I will always be a student of life, and I apply the same principles to my art. If I can do it, anyone can!
Shop Overalls
On her routine (or lack thereof): My days are like snowflakes. Not one day is alike, but, every day, I practice my art. The rest can be taken up with anything from going to meetings to lighting myself on fire to training actors or flying talent in the air.
On the last things she bought online: A vintage Mister Rogers T-shirt off Etsy, indigo dye (almost my entire wardrobe is indigo now), and martial-arts shoes.
Mindy Kelly wears Eileen Fisher ballet flats.
If you buy something through our links, New York may earn an affiliate commission.