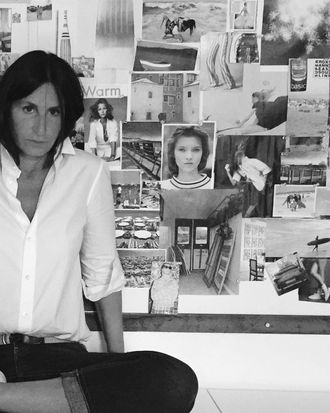 Roxanne Assoulin.
Photo: Courtesy of Roxanne Assoulin
Jewelry designer Roxanne Assoulin lets her accessories speak for themselves. The "Story" section of her eponymous label's website, a space where a designer would typically wax poetic about a personal brand, says only "Blah Blah Blah Blah." But her Rainbow Brite bracelets and camp-craft necklaces are instantly recognizable, Instagrammable — and popular. CNBC reported the company grew 300 percent between 2017 and 2018.
Assoulin has been making accessories since the 1970s and has worked with brands like Oscar de la Renta, J.Crew, and Marc Jacobs on jewelry. Then she started playing around with colorful ceramic tiles, turned them into bracelets, and gave them to friends like Leandra Medine and Selby Drummond. Medine posted a photo of her stack of bracelets, they quickly sold out online, and a status symbol was born. We spoke with Assoulin about trends, Twombly, and The Row.
How do you thank someone for a gift? I usually just pick up the phone. Easier, faster, and more personal.
What would you never wear? Stilettos, wedges, colored eyeshadow, fringe, high-waisted anything.
What's your dream vacation? Mountains, trees, sun, beach, quiet. Somewhere I can be outdoors all day, eat well, and be invisible.
What's a good book on your coffee table right now? Cy Twombly and HommeGirls magazine, both visually appealing.
Last show you binge-watched? The Crown. Of course.
Secret to hosting a good party? Love the people you're inviting. Love transcends everything — even food.
What is a trend you like right now? Luxury classics. Is that a trend?
One you don't understand? Bras on top of T-shirts. But why?
Favorite restaurant in New York? Bar Pitti, hands down, for the past 20 years. My home away from home.
Shoes you wear most often? New Adidas, Old Celine, and The Row.
What's your favorite …
Pajama? Crisp white cotton.
Candle? Anything unscented.
Scent? Jo Malone's French Lime Blossom mixed with Rodin Olio Lusso.
Socks? Falke.
T-shirt? Hanes x Karla, Jac+Jack, and Sofie D'Hoore.
How would you define your style? I love a uniform. A white shirt or navy turtleneck and jeans with a brown belt. Simple, clean, and uncomplicated. I love separates. I can multitask a good sweater or trousers any day of the week … from work to black tie. This way, I always feel comfortable, and that's key.
What is your favorite place in your office/studio/home? My apartment faces west, and I love coming home from work when the rooms are lit with the warm afternoon light. It's always a surprise.
Shop the Story
If you buy something through our links, New York may earn an affiliate commission.