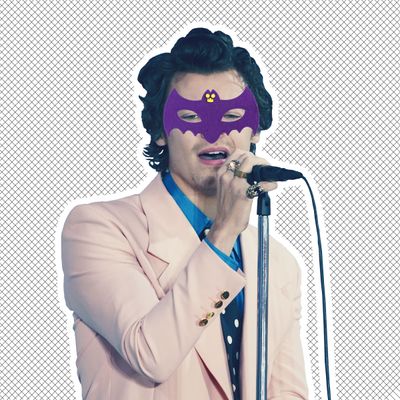 This morning on the Today show, Harry Styles introduced the world to a new international holiday: Harryween.
In honor of this important new holiday, Styles will perform two shows on October 30 and 31 at New York's Madison Square Garden. The performances will mark the end of his Love on Tour tour, which kicks off in the U.K. this April and features music from his sophomore album, Fine Line.
Speaking on Today, Styles described Harryween as a series of "fancy dress parties," where fans are encouraged to dress up. Orville Peck, a country singer known for his fringed mask, will join Styles for both performances.
The fashion possibilities for a production like Harryween are mind-boggling. Styles's stylist, Harry Lambert, recently told British Vogue that the trio of outfits Styles wore to the Brit Awards last week — a professorial brown suit with pearls, a yellow woman's power suit, and an embroidered seashell set — were intended as fashion "appetizers" for his upcoming tour. "We have definitely been teasing elements of the tour wardrobe for a while now, and one of tonight's looks is a taste of things to come … but I'm not going to tell you which one."
As such, I can only begin to imagine what Harry might do when the dress code is "fancy dress." He is, after all, serious about Halloween: He was a bedazzled Elton John last year, and went once as a topless Miley Cyrus at the 2013 VMAs. As for me, I will be attempting a re-creation of this magical pearl-and-seashell number he wore to the Brit Awards last week.