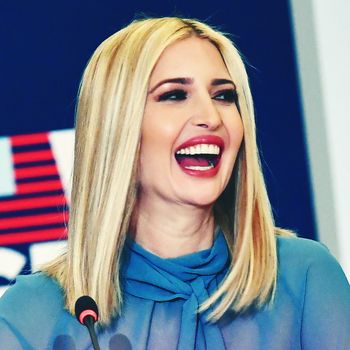 Photo: MANDEL NGAN/AFP via Getty Images
Ivanka Trump continues her relentless crusade to make women her thing — specifically, the well-being of one very specific woman — this time with the announcement of a new bipartisan bill in Congress. "Ivanka's Law," as it's known, would "establish women's economic empowerment as a core facet of the United States foreign policy." It would also "permanently authorize" Ivanka's pet project, the Women's Global Development and Prosperity Initiative, meaning it would last beyond her father's administration, and in the meantime, officially establish "an office of women's empowerment" at the State Department led by an "ambassador-at-large." Any guesses who she might have in mind for this role?
That Ivanka would likely be the primary beneficiary of Ivanka's Law is not surprising. She has been touting her W-GDP, the shorthand for her initiative, for a year now, claiming to reach 12 million women with programming that eschews actual social change in favor of an economics-heavy strategy that values women solely as contributors to a global workforce. It is almost tedious at this point, actually, to highlight all the ways her corporate, sanitized version of "feminism" exploits the justice-oriented language of the movement to sell "economic empowerment" while ignoring the ways her father's administration harms the most vulnerable.
For example, Senator Jeanne Shaheen, a Democrat from New Hampshire and a co-sponsor of "Ivanka's Law" has also condemned the Trump White House for expanding the Global Gag Rule, which pulls funding and aid from overseas organizations that provide or promote abortion services, and even organizations that fund those organizations. It prevents NGOs from helping to reduce maternal death and death from unsafe abortions, as well as from treating HIV and infectious diseases.
But while the hypocrisy of Ivanka's claims to care about the needs of women have reached the level of parody, one consistent beneficiary of her commitment to her shtick is Ivanka. At this rate, no matter what happens with history's most insane presidency, Ivanka, international empowerer of women, will have a résumé ready for some consultancy somewhere. Brave.