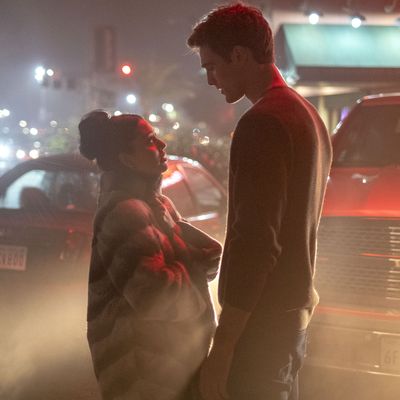 A tall man, yes — but how tall, exactly?
Photo: HBO
Last week, two Celebrated Talls had a flirty day out in New York City. They drank green juices. They took selfies. One Tall appeared to have an especially nice time kissing the other Tall's head. Maybe you saw the pics? They caused quite a ruckus, the Talls in question being Zendaya and her rumored boyfriend, Jacob Elordi. Ah, to be tall and in love:
Zendaya and Elordi, who both star on the hit HBO show Euphoria, have yet to officially confirm their relationship, although an unnamed source quickly assured E! News: "Jacob and Zendaya have been seeing each other for months now. They started as close friends but it became romantic after their show ended."
It's all very exciting, for the happy couple and for viewers of Euphoria. But it does not answer my own burning question, which is, Just how tall is this man? Keeping in mind that Zendaya stands at about five-foot-ten, he would appear to be … I don't know, like six-foot-seven? Taller? As a fellow Tall, I am pleased for her that she has finally found a partner in looming, and also skeptical of the party line. Elordi's reported height is six-foot-four and while he has absolutely no reason to lie about that, please refer to this visual from Athens, Greece, in which the couple was caught casually strolling in the background of a tourist's photo. See what I mean? Very tall.
Unsurprisingly, perhaps, neither Elordi's publicist nor his agency responded to the Cut's request for comment on this very important topic. Probably, he is really sick of fielding questions like, "What's the weather like up there?" and, "You must enjoy basketball, right?" and, "Officially, for the record, are you actually six-foot-four or is that a conservative estimate?" Apologies to Elordi but my curiosity is piqued. Because again, here's a still of the actor with Hunter Schafer, also five-foot-ten, from Euphoria. Now, I cannot say for sure how long Elordi's head and neck are, but having just measured the distance from my own shoulders to the top of my skull — 11 inches — I am not so sure the math adds up here:
Especially when you consider that Schafer is wearing heels, approximately two to three inches tall, I would say? And Elordi is conspicuously not:
Here's Elordi with his TV father, Eric Dane, who reportedly is six-foot-one. I think, if you were to stand these two shoulder to shoulder, one would be more than three inches taller than the other.
Consider also Elordi alongside Alexa Demie, allegedly five-foot-four and possibly even wearing some sort of chunkily soled shoe here, although I cannot confirm. In any case, you simply will not convince me that there isn't more than a full foot separating the tops of their heads.
Or, here's Elordi looking taller than his Euphoria truck. His character being extremely that guy, I imagine this vehicle has been outfitted with the big tires. But, you know, that is purely conjecture.
And here he is, looming almost as tall as some kitchen cabinets, and frankly dwarfing a fridge:
True, camera angles can wreak havoc on personal scale, so one more time, for emphasis: out with Zendaya in NYC, wearing nighttime shades and looking very tall indeed, bless him.
Is this among the more unhinged fixations on which to expend about 700 words? For sure. Is it possible that all the reported heights listed above have had inches tacked on or shaved off, for reasons known only to Hollywood, but which nonetheless skew all of my approximations? Of course! According to NPR, shortness may behoove actors — in general, a smaller bunch than you might expect, with men standing at five-foot-ten on average and women coming in at five-foot-five — because it allows them to play roles in a younger age bracket for longer periods of time. That might explain why people who look like they're 30 keep getting cast as 16-year-olds, although it does not tell us much about Elordi's specific situation.
Anyway, after much consideration and weighing of evidence, I am prepared to accept that Jacob Elordi is six-foot-four if we are measuring in extra-long inches. Regardless, we're all very proud.