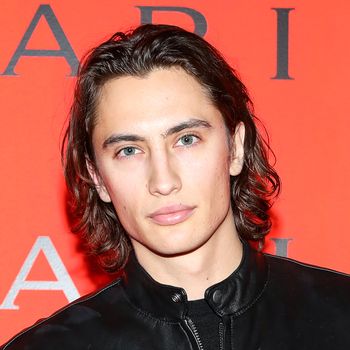 Photo: Samantha Nandez/BFA.com
Some people play sports, as in they know the rules, excel in the game, and go on to have toned bodies for the rest of their lives. And other people "do" sports, meaning they play a slew of different ones in the fourth grade and fail miserably, although perhaps they at least win a sportsmanship award at the end of the season. James Turlington, baseball-player-turned-model and nephew of legendary model Christy Turlington, is the former type of person, and, as if God didn't give him enough, he was also born with cheekbones sharp enough to cut a brick.
Turlington was among a group of celebrities and notable fashion people at last night's Bulgari party — the first big soirée at New York Fashion Week this season and a celebration of the maison's new, indomitably shiny collection: Bulgari "B.zero1 Rock." Among the attendees at the party, thrown in a giant warehouse in the Brooklyn Navy Yard, were Zendaya (and her new, very very tall beau); a pregnant Ciara, who performed later in the night; supermodel Lily Aldridge; and British actress Naomi Scott.
Speaking to the Cut about what he misses the most about life as a professional baseball player, Turlington said, "What do I miss the most? Ahhh. Just the camaraderie. You're with the same guys every day, working toward the same dream. Just like close relationships with all the teammates."
But do not worry about the happiness of the world's most beautiful baseball player, as he has travelled from the field (mound? pitch?) to the runway. The fashion world has been pretty good to him too: "This life's been amazing so far. You get to meet amazing, creative people every day … and explore the world as well. It's pretty cool to travel places I've never been to." And then in his oozing California skater-boy voice, "For suurrre."
Elsewhere in the party, the guests showed off their Bulgari jewels and walked through a large metal storage container transformed into an interactive exhibit for Bulgari's new collection (yet another brawny-to-chic story from the night). Others, after getting lost in the Navy Yard, took warmth in the cocktails, chicken nuggets, and not one but two mystery meats served by the hunky male servers and bartenders. Guests, sticking to the dress code of "more is more," sported sequins upon sequins upon leopard print and got particularly dancey to Saweetie's "My Type."
And at the end of the evening, everyone's favorite "cowboy-DJ-mogul-dad" Diplo ascended above the crowd to his DJ stand. The hunky bartenders put down their bottles, flashed a few smiles at each other, and did some shoulder shaking to the Major Lazer god.
I suppose there's some male camaraderie in the fashion world too, Mr. Turlington.