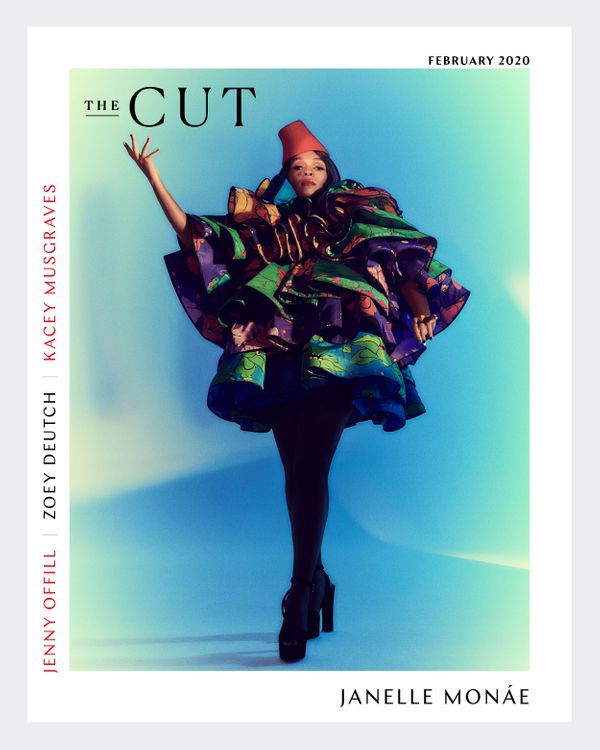 Photo: Elizaveta Porodina
This month's Cut cover woman, Janelle Monáe, can do it all. A Grammy-nominated artist who's released three conceptual albums (the latest of which, Dirty Computer, was accompanied by a 46-minute "emotion picture"), she's also an actress who has starred in multiple Oscar-nominated films, and she collaborates with the Wondaland Arts Society, a collective of young black creatives working to spread its reach throughout the entertainment industry.
How do you even begin to capture the essence of such a multifaceted artist? Photographer Elizaveta Porodina found the challenge inspiring. "Once you meet Janelle, it becomes very clear that she is an artist with a big, clear, and precise vision," Porodina told the Cut. "It inspires you immediately to give all of your energy to visualize the powerful aura that surrounds her."
It's well-known that Monáe is a fashion chameleon, so stylist Rebecca Ramsey took the opportunity to play around with dramatic shapes and consider what could make for graphic moments. "The Marc Jacobs look is one of my favorites from his collection. When Janelle put it on, she brought it to life, moving within its voluminous ruffled pouf shape as if it was something she would wear everyday," said Ramsey. "Who else could do that?"
Below, check out behind-the-scenes photos from the shoot.