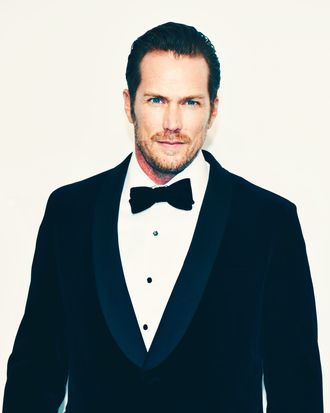 Photo: Rodin Eckenroth/WireImage/Getty Images
Gone but not forgotten: Smith Jerrod, who is admittedly still living and healthy as far as we know, is getting married. That is to say Jason Lewis, the extremely chiseled actor who played Smith Jerrod, the extremely chiseled actor-boyfriend of Samantha Jones on Sex and the City, is getting married, and that means that in our minds Smith Jerrod is getting married, and thus finally off the market, going to that place where married hotties go.
In December, Lewis proposed to his girlfriend, an actress named Liz Godwin, "in front of a stunning California sunset and ocean views," per People. They have been dating for four years and she was born in 1991.
Lewis said he "pulled away from Hollywood" a few years ago, but that's fine with us, because we can just focus on him purely as Smith Jerrod, née Jerry Jerrod, fictional actor and boyfriend of Samantha Jones/Kim Cattrall. It's hard to pick a favorite Smith Jerrod moment from SATC: There is his nude debut as a contemplative farmer in a downtown play; when he shaves his head and looks really good; when he supports her through breast cancer and also looks really good. Recently Jason Lewis, real person, weighed in on the historic Sex and the City 3 feud and sided with Sarah Jessica Parker, real person, and against Cattrall, real person, but we won't dwell on that.
So long, Smith Jerrod, we know you were never real but now you're getting married. Good luck.