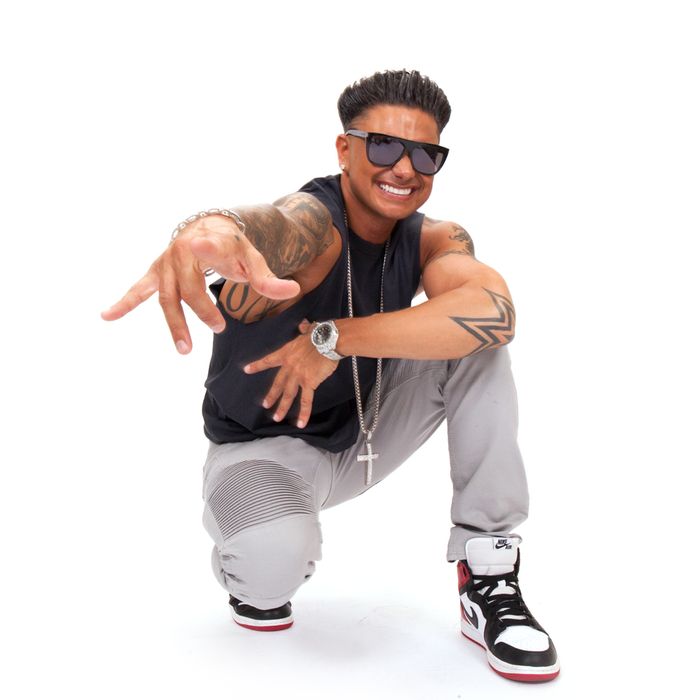 As Fleabag once said, "hair is everything." No one agrees or embodies this more than the one and only DJ Pauly D of Jersey Shore, who burst onto the TV reality scene in 2009 with his perma-tan, white grin, abs, and his strongly gelled hair.
More than a decade later, all of that is going strong. In fact, Pauly D even has his first beauty partnership: He's the new face of göt2b hair products, a brand he first name-checked in a "Jersey Shore 101" video years ago. The Cut got on the phone with Pauly D, who called us from his mom's house, to talk about his beauty routine, all that gel, and the only person he trusts to cut his hair.
How do you think about beauty?
It's a part of natural hygiene. I like to stay clean and look clean-cut. It's just part of looking nice. When you look nice, you feel nice. Beauty is also an expression, like I express myself through my music. Everyone is beautiful in their own way, and how they own it is beautiful to me.
I saw in an old video of yours that it took you 25 minutes to do your hair. Is that still true?
Yeah, pretty much. My natural hair texture is wavy and thick, so the brunt of it is blow-drying. I start with a shower with wet hair, and then I blow-dry and brush it up. I use the göt2b Styling Glue, comb it up with the gel in it, and then hit it with the Blasting Freeze spray. And then another blast of the hairspray. I probably go through a tube of gel a month.
I have to get in good blasts of hairspray — like 15 seconds. I get the front, back, sides, and middle to get it nice and shiny. It never messes up. It doesn't move, doesn't flake, doesn't sweat off, or anything. It just stays until my next shower. I never leave the house without my hair done and without product. If I do, like when I'm rushing to the airport, it will be just with the hat on.
When was the first time you did your hair?
[I've done my hair] since grade school. I went to Catholic school, where we all wore uniforms, so it was the only thing we could do to differentiate ourselves. It's always been spiked up in some way or form. I started spiking it up in the front. Then it started growing longer, and then I started spiking my whole head. It's a lot of work to get it going.
I grew up in the East Coast, where a lot of kids express themselves with hair. Spiky hair was sort of the norm back then. But in style, out of style, I've kept it. It if ain't broke, don't fix it. On my mother's side, all her brothers and grandfathers have thick Italian hair and no sign of going bald. I'm looking at the photos right now, and their hair all looks like mine, with their old-school Italian haircuts. But puffier. God blessed me with this hairline, so I'm not going to let him down.
How often do you get your hair cut?
Every few days, I do a lineup and fade. I'm in a different state almost every week, and I have a barber in almost every state. Anyone can do the sides. Even if you mess it up, you can't really tell.
But I let the top grow all month. It's difficult. It's different lengths. I wouldn't want to go to a stranger, so I go to Cutty Fresh in Vegas. He's the only one I let cut it. I don't trust anybody else with it.
What's your morning routine like?
I shower. As far as skincare, it's pretty minimal. Someone back in the day told me that I should exfoliate to keep my skin blemish-free, so I use the Clean & Clear Morning Burst. It's pretty dope. It feels nice on the skin.
Then I use Image Skincare moisturizer. It's a hydrating lotion that's not too greasy but has a little sunblock in it. I film a lot, so I can't be shiny. And I like it because it smells like oranges.
What else do you do for beauty?
My hands are important, too. They're part of my signature, being a DJ. I get them done once a month, a shiny buff. I've tried clear nail polish, but it looks weird. I get a pedicure as often as I can, which is about twice a month.
I don't tan as often. My natural color is just olive. But sometimes I will spray or do the booth tanning. I still like to keep that nice glow going; it looks good on camera. I also shave my chest. I don't shave my legs, though. Some people do that, but I don't.
How do you feel about aging?
Hmm. I don't know. Guys nowadays are embracing it. If you have gray hair, just go with it. I don't have that yet. But if I did, I would rock it. I'm not scared of getting older.
If you buy something through our links, New York may earn an affiliate commission.