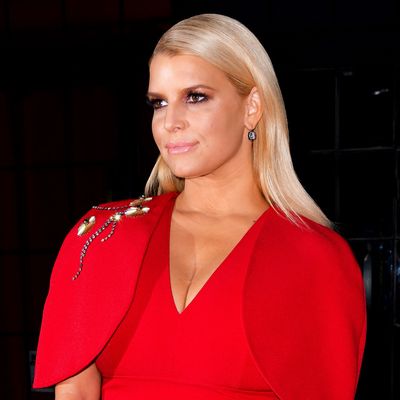 Jessica Simpson reveals her personal struggles in
Open Book.
Photo: James Devaney/GC Images
For decades, tabloids wrote Jessica Simpson's story for her. But little did we know, she had been chronicling her own history in her diaries. In a new memoir, Open Book, Simpson unearths her emotions from the past 15 years. Starting with the devastating day she realized she had a problem and working backward, Open Book looks at Simpson's life from her childhood to her burgeoning career to being a household name. It's not all about the glamour. Simpson writes about her most vulnerable moments, the times she felt the most "nekkid" — not just naked. She lays out her relationships, her body image, and her trauma for everyone to read, since the tabloids always seemed so curious. Here are some of the heart-wrenching details from Open Book, out now, that will let you get to know Jessica Simpson a little bit better.
Starting when she was 6 years old, a young family friend sexually abused her.
Whenever Simpson and her family visited a family they were close with in another town, the daughter sexually abused Simpson in their shared bed, Simpson claims. "It would start with tickling my back, then going into things that were extremely uncomfortable," she remembers. "Freezing became my defense mechanism, and to this day, when I panic, I freeze." Eventually, Simpson says it progressed to a point where the girl would lead Simpson into a closet or "linger" until they were alone. As her little sister, Ashlee, grew up, Simpson felt it was her responsibility to protect Ashlee from the abuse. After shouldering the secret for six years, she finally found the courage to tell her parents. "I feel like you guys might know that this has been going on, but if you don't know what's been going on, she's been touching me for years and it makes me really uncomfortable and I don't ever want to go back there," Simpson recalls saying on the way home from the girl's house. They never visited that friend again, but they also never discussed the sexual abuse.
Her marriage to Nick Lachey was fraught from beginning to end. 
While it's true that Simpson's father wasn't happy with her engagement to 98 Degrees singer Nick Lachey, she reveals that she was the one against a prenup — not her father, as the tabloids may have suggested. "No, this was an intimate discussion between a man and his soon-to-be wife," she says. "Which is to say that I exploded." By the end of the relationship, they didn't even need a prenup (although it might've been helpful). After long stretches of not speaking, Simpson asked for a divorce and Lachey hesitated, trying to get her to stay with him. They slept together one last time before the divorce was finalized, while Lachey was promoting his "divorce album." Then Simpson had to end it. Since they had no prenup and she was tired of going back and forth, when Lachey asked for "a certain number" as part of the divorce agreement, Simpson relented, figuring she'd make it back. "And then I did," she cheekily writes, referencing her Jessica Simpson Collection. "Give or take a billion."
During this time, she had an emotional affair with Johnny Knoxville.
Who knew the set of the Dukes of Hazzard remake was so romantic? Filming the movie was a refuge from Simpson's marriage in more ways than one. During this time, she began an emotional affair with Johnny Knoxville, or, as she called him in her diary, "the boy from Tennessee." "I could share the deepest authentic thoughts with him, and he didn't roll his eyes at me," she writes. "He actually liked that I was smart and embraced my vulnerabilities." With her marriage to Lachey crumbling and the knowledge that she and Knoxville were never going to run away together, Simpson let her relationship with him fizzle out. (Oh, but that "Let Him Fly" cover on her album A Public Affair? It's not about Nick Lachey. It's about Johnny Knoxville.)
She took diet pills for 20 years after Tommy Mottola, former CEO of Sony Music, told her to "lose 15 pounds" when she was 17. 
"Okay, you gotta lose 15 pounds," Simpson remembers Tommy Mottola telling her right after she signed to Columbia Records, which is part of Sony. She "immediately" went on an "extremely" strict diet and started taking diet pills, which she would do for the "next 20 years." Throughout her book, Simpson details anxieties about her body, her weight, her size, and the ways she tried to change herself. For readers and for her daughters, she writes, "You are perfect as you are. But at the time, this is what we thought we had to do. I say 'we' because I was about to become the family business, and there was a lot of pressure to be what the label needed me to be."
The chili cook-off mom-jeans fiasco did not help. 
Supermarket-tabloid connoisseurs will remember Simpson's "mom jeans," a pair of high-waisted bell-bottoms that were just a few years away from becoming the norm again. She wore them to Radio 99.9 Kiss Country's annual Chili Cook-off in 2009, at a time when she was feeling confident. "I swear, I thought I looked beautiful," she opens the chapter titled "Death By Mom Jeans." "I had always been in on the joke, and that gave me power," she writes. "Now that it was everybody else making it, I didn't think it was funny. I was insulted for myself and all women." But as more and more headlines and interview requests rolled in, her confidence dwindled and "a dysmorphia set in."
Her relationship with John Mayer escalated her dependency on alcohol. 
John Mayer's history of treating and speaking about women disrespectfully is well recorded, but the effect it had on his exes has really been talked about only in Taylor Swift songs. In Open Book, Simpson details her tumultuous on-again-off-again relationship with Mayer. She would agonize over text messages to make sure everything was grammatically sound and wouldn't upset him, spent "hours decoding a basic fact" to respond properly, and drank to fight the anxiety. "It was the start of me relying on alcohol to mask my nerves," she admits. She adds that Mayer was "obsessed" with her, and his insistence even while they were separate led to Tony Romo's breakup with her. Eventually, she realized Mayer had been using her for inspiration. "All this time, all those years, he was breaking up with me to torture himself enough to get good material," she claims, while also taking responsibility for her part in the back-and-forth. But she kept seeing him until Playboy happened: Mayer's infamous Playboy interview is full of chaos, such as his saying he isn't attracted to black women. He also talked about sleeping with "girls" in the plural and called Simpson "sexual napalm." "When he reached out to me, I changed my number and changed my email," she writes. "Delete."
She admits to being drunk while appearing on The Ellen DeGeneres Show in 2017.
While hanging out on Ellen, Simpson joked and slurred her words, quickly becoming the talk-show host's punch line. "I admit I drank beforehand and was also on steroids for a chest infection that made me hoarse," she confesses in the book. "I was nervous, but I'd always been able to turn it on for talk shows. Instead, I couldn't find Ellen's rhythm, mumbling, and second-guessing everything I was saying." The show was just one obstacle on Simpson's slippery slope.
She "needed a drink every morning" to combat "the shakes."
Early into the autobiography, Simpson admits to drinking vodka early in the morning to combat shaking and anxiety. She would mix vodka with flavored Perrier sparkling water in a glittery tumbler and bring it with her. When she decided to become sober, she says her last drink was from her faithful "glittercup."
After confronting her father, she had a breakdown that forced her to get sober. 
Halloween is typically a fun event at Simpson's home with her husband, Eric Johnson, but in 2017, she started the day with that glittercup. Already anxious from an event at her daughter's school, Simpson came home and opened up to her father, who had been her longtime manager. By this point, she had painfully fired him and was nervous to play him any of her new music, which had been inspired by him. "All the feelings I had been suppressing washed over me in a rush, and I was drowning in them. My world was rotating around me so fast that I didn't have any clue as to how to control it," she writes of her panic. Her close friends, employees, and husband were all at the house for an annual Halloween party and were there for her when she admitted she was "not okay." She spent the night drinking in her room, listening to her kids trick-or-treat. The next morning, she decided to stop drinking alcohol for good.
Her friends were prepared to stage an intervention. 
Simpson's friends Koko, CaCee, Stephanie, and Lauren (all of whom have either worked with or currently work with the star) had been planning for Simpson to "hit rock bottom" for six months before she finally decided to go sober. "Lauren already had a doctor lined up, one who specialized in getting celebrities in-home treatment for addiction," Simpson explains in the book. Initially, she had "the nerve to be offended," but soon she was ready to do the work to change for the better. "To walk forward through my anxiety," she writes, "I first had to look back to understand what pain I was running from, and what I was trying to hide."